Remote Employee Burnout
By Erica Rascón on Jan 3, 2021 in News
Employee burnout is a pain point for many property managers. It's a major contributor to high turnover, which is costly, time consuming and quickly depletes employee morale. In remote work environments, there are additional risks and considerations. Fortunately, you can fight back.
A few industry experts offer tips, tools and insights to prevent and mitigate burnout amongst your remote staff.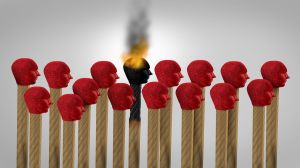 Why should you keep an eye on employee burnout?
Employee burnout is the first step in a downward spiral that you may recognize: an overwhelmed employee cannot indefinitely sustain a high level of performance. Eventually, job performance suffers, and fellow employees are required to pick up the slack.
As other team members compensate, their workloads increase to unsustainable levels. Emotions and frustrations run high, morale plummets and then someone quits. Their workload shifts to other employees, which increases the potential for burnout and the cycle continues.
In remote work environments, employees may not have a designated home office or coworking space. This means that they are facing professional and domestic challenges in tandem, potentially quickening the burnout cycle.
It costs between $5,505.80 and $9,444.47 per turnover to replace an entry-level employee. Harvard Business Review reports that the psychological and physical toll of burnout cost an estimated $125 billion to $190 billion a year in healthcare spending.
Eric Garten, partner at global management consulting firm Bain & Company, believes that's just the tip of the iceberg. "The true cost to business can be far greater, thanks to low productivity across organizations, high turnover, and the loss of the most capable talent."
He continues, "Executives need to own up to their role in creating the workplace stress that leads to burnout—heavy workloads, job insecurity, and frustrating work routines that include too many meetings and far too little time for creative work. Once executives confront the problem at an organizational level, they can use organizational measures to address it."
Signs and symptoms of staff burnout
Burnout presents itself differently in each employee, but two things remains the same: a shift in character and performance. Everyone has a bad day, but when employees demonstrate new, negative tendencies over prolonged periods, it's time to check in.
The Mayo Clinic lists common symptoms of burnout as:
Exhaustion or fatigue
Inability to focus, feeling frustrated or overwhelmed
Becoming argumentative and short tempered
Increased frequency in forgetfulness, missed deadlines or errors
Increased sickness or call out of work
Apathy
Several factors can contribute to changes in temperament and performance. Employee burnout, however, indicates training opportunities and inefficiencies in employees' workflows.
What tools prevent and mitigate taxing workloads on staff?
Thorough training promotes adaptability and growth opportunities. Patricia Pomies is chief delivery officer at Globant, a firm that transforms organizations for a digital future. She has observed that investing in innovative training technologies is an effective way to care for employees.
"With new technologies and innovations constantly being introduced, organizations' training and development will be more focused on putting employees at the center of the business to ensure they are equipped with the skills needed to provide the best service possible to customers."
Digital education software that leverages cloud-based learning makes it easy to train employees. Whether they are working remotely or in the office, employees can learn, review and participate in group activities. Assessments make it easy to identify where learners need additional support before it becomes a real-world problem that causes delays and frustration.
The same learning software can be used to create opportunities for growth. This is particularly important when workloads veer between extremes. "When a job is monotonous or chaotic, you need constant energy to remain focused — which can lead to fatigue and job burnout," reports The Mayo Clinic.
Professional advancement opportunities can help to keep remote and in-office staff focused and motivated.
Automate and streamline repetitive tasks to save time and energy. When you can automate redundant or menial tasks, you help to alleviate strain on your staff. They can then excel in essential areas like building rapport with prospects and developing retention strategies for residents.
With the right tools, you can automate several leasing office tasks:
automate responses to prospect inquires and FAQ
schedule tours and follow-up correspondences
automatically transform prospect files into resident files
dispatch surveys
issue lease renewals
Download 9 Marketing Automation Strategies for Property Managers to simplify your life.
Mentorships instill years of knowledge into new employees
Mentorships play an important role in the transfer of knowledge between experienced and unexperienced staff. Experienced staff members can help newcomers navigate challenges and develop the creative problem-solving skills needed to thrive in challenging environments.
Jim E. Guilke earned a doctorate in instructional design and learning strategy. He notes that mentorship plays a critical role in employee success. Their presence is especially helpful during training and continuing education.
New staff should be given role-specific, problem-based scenarios to solve. "That should be followed by a debriefing with the mentor, who can offer additional insight and evaluation," adds Guilkey. With a broader spectrum of knowledge, staff is better prepared to meet daily demands and think creatively about solutions.
Get more helpful tips and tools for effective remote onboarding.