Remote Onboarding
By Erica Rascón on Nov 23, 2020 in News
Working from home, remote work, telecommuting: whatever you call it, it's a challenge for property managers across the nation. If you're lucky enough to be hiring in during the pandemic, you're also facing the challenge of onboarding in a remote work environment. It's not easy.
With the right tools, however, you can onboard new team members with ease and efficacy. Check out these recommendations from industry experts for remote onboarding, simplified.
Just when you thought property management couldn't get any harder…
Property management is a notoriously tough business. The National Apartment Association reports an average turnover rate of 33% in 2019. The highest rates are for leasing and maintenance, at 31.9% and 39.2% respectively.
With each vacant position comes the time and money spent on marketing, hiring and training. The time it takes to train a new employee varies. It's safe to say, though, that hours spent training a revolving door of new hires isn't an ideal use of your team's time. When translated to dollars, it costs between $5,505.80 and $9,444.47 per turnover to replace an entry-level employee. High turnover is costly, time consuming and counterproductive.
Then a pandemic arrives that complicates everything for everyone everywhere.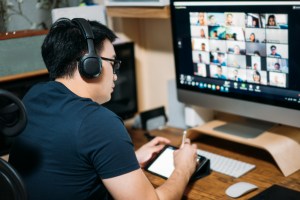 Property managers who are lucky enough to hire must now do so without interviewing or training applicants in person. Teams attempt to build office culture and support with the same screens used for work and productivity. A career path that deters 33% of employees each year now faces additional challenges.
Fortunately, robust e-learning software is here to help.
What methods can help property managers overcome these challenges?
Begin with the cloud. Cloud computing empowers property owners to implement e-learning and remotely train new hires. The system facilitates real-time collaboration between participants on documents and projects. Additionally, software that operates on integrated and centralized cloud storage is advantageous to a piecemeal assemblage of programs.
Patricia Pomies is chief delivery officer at Globant, an innovator in workplace efficiencies. The cloud is a powerful tool because it provides 24/7 access to learning content. Remote, easy access is key for distance learning.
"Their approach should be focused on promoting a culture of continuous learning, and training programs should live in one central, digital location for employees to access easily," says Pomies.
"It's also best to give employees access to different learning experiences and training based on their time, interests, level and expertise—whether they are a remote employee or not."
Create online trainings that are branded and customizable. Consider a remote learning platform that enables branding and customization. Since your new hires won't go into a physical office each day, it is essential to use branding to instill a sense of place and company culture.
Customization ensures that your messaging within the e-learning platform is consistent with corporate messaging. Of equal importance, you will be able to customize learning modules based on the new hire's role within the organization. This ensures that new hires can prioritize and specialize as needed.
Customized content also encourages the most engagement from participants. Jim E. Guilkey, author and doctorate in instructional design and learning strategy, suggests that engagement improves problem-solving skills. In an interview with Society for Human Resource Management, Guilkey encourages clients to explore engaging options such as virtual collaboration rooms and role playing.
"Instead of simply lecturing, put the impetus for learning on the learners," he says. He recommends putting students in a virtual collaboration room to evaluate real and hypothetical situations pertinent to their roles. Together, they can analyze, troubleshoot and propose solutions and improvements.
Rather than relying on industry standard, pre-set modules, customized courses provide hyper-local learning opportunities. Presenting scenarios specific to the brand, property or region create a stronger sense of place and culture for remote learners.
Check for comprehension before assessments and analyze assessment data for additional learning opportunities. When teaching in person, an instructor can use body language to gauge whether content is "sinking in" before an assessment ever takes place. If a new hire asks a question, others with the same or similar question are encouraged to chime in. With e-learning modules, it can be more challenging to evaluate whether learners are on the right track before assessments take place.
Throughout learning modules, offer informal learning checks. These are like little pop quizzes that check for comprehension without penalty of a wrong answer. As new employees complete assessments, use metrics within the e-learning platform to identify trends. Patterns can help you identify opportunities within the curriculum and places where learners need additional information or practice.
Learn how you can implement role-based learning plans for more efficient and customized onboarding.