Public Transit
By Joel Nelson on Jun 21, 2021 in News
What does the future hold for public transit – bus, light rail and subway – after the pandemic's disruptions? Nationally, public transit ridership dropped by nearly 80% in April 2020 and remained more than 60% below 2019 levels through the rest of the year, with systems in San Francisco, Washington, D.C., Boston, Chicago, New York City, Seattle and Atlanta all losing more than half their ridership.
"The fallout for public systems like transit has been nothing less than monumental," says Government Technology, which covers information technology's role in state and local governments.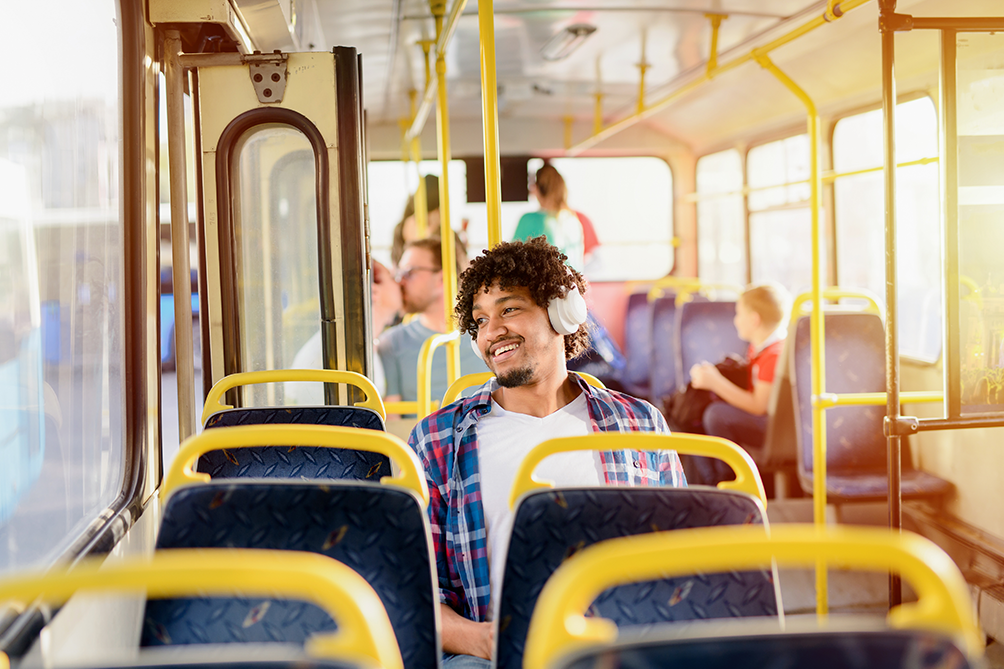 Public transit filled a vital need as COVID-19 raged, delivering workers to essential jobs at hospitals, pharmacies, grocery stores, fire and police stations and utility companies, and transporting medical patients, medicines, meals and critical supplies. Crews stepped up efforts to clean, disinfect and ventilate vehicles and facilities. Some agencies adopted new technology to better monitor system use during the pandemic and be more responsive to changing needs afterward.
More recently, an infusion of federal emergency assistance has helped stabilize transit organization finances. Proposed infrastructure legislation includes several measures to expand bus routes and rail lines and convert gas and diesel vehicles to zero-emission electric vehicles. As of May, about 50% of transit riders nationwide had returned compared to pre-pandemic times, according to the American Public Transportation Assn.
Roads & Bridges, a trade publication for the transportation construction and maintenance marketplace, notes that the pandemic "has elevated public awareness and appreciation for the vital role transit plays in our communities."
New challenges arise
But even as the pandemic wanes in some regions, new challenges arise for public transit, which less than 6% of Americans used to commute to work before the pandemic. Work-from-home arrangements appear to be a durable trend with little or no adverse impact on productivity. Some workers may relocate outside metro areas for lower costs of living or other reasons. Rideshare programs and other alternatives threaten to further erode transit ridership.
Systems in Washington, New York, Houston, Chicago and elsewhere are weighing fare reductions, schedule adjustments, security enhancements and facility upgrades to lure riders back. Even more important, agencies are seeking to formulate a long-range vision for public transit's role in modern life. "We have a huge opportunity here to provide fast, safe, reliable, clean transportation in the country, and transit is part of the infrastructure," President Biden said in April.
Government Technology adds, "For all the damage COVID did to city transportation systems, it also provided them an opportunity to learn more about how transit is used, reconsider the mission, and reallocate resources."
But recalibrating transit is "a huge challenge," acknowledges Paul Skoutelas, president and CEO of the American Public Transportation Assn. "Transit agencies will have to pivot to what this new future might be … we need to get the larger workforce back on public transit, not only for our own survival but also to revitalize cities."
Chris Snyder, Europe CEO and senior vice president of expansion at Via, an on-demand private mobility provider that partners with public transit systems in the U.S. and Europe, believes that rebuilding transit demand is "going to take time, maybe years, which means we have an opportunity now to shape how we recover."
Nuanced thinking and flexibility needed
What will such a recovery look like? Most likely it will satisfy multiple community needs by combining public and private mobility providers into interactive, equitable, convenient, affordable and environmentally conscious systems.
"We tend to say that as long as your ridership numbers are trending in the upward direction that your system is healthy," says Zabe Bent, director of design for the National Assn. of City Transportation Officials. "We need to be more nuanced than that. We need to look at travel times and how competitive they are to driving. We need to make sure that accessibility between modes is there. We need to make sure that on-time performance works… across the network, not just on the core system."
"We will never have everyone going back to 9-to-5 commuting the way they did before," adds transit consultant Jarrett Walker, while Beth Osborne of advocacy group Transportation for America believes that transit agencies' "singular focus" in the post-COVID era should be on improving access for the trips people make aside from work.
"As public transit adjusts to a post-COVID world, watch for it to be more flexible, less focused on rush-hour peaks and more focused on the kinds of partnerships that build equity," Government Technology advises.
"I think if we've learned anything from this pandemic, it's no longer time to ask riders to adjust their lives to transit, but instead, it's time to adjust transit to the lives of riders," offers L'erin Jensen of TransLoc, a Durham, N.C., transit tech company and subsidiary of Ford Mobility.
"Our industry's ability to emerge successfully from this crisis will have a lasting impact on strengthening public confidence, safeguarding our employees and riders, promoting equity, and investing in a new, more mobile future," Roads & Bridges concludes.
Transit authorities and other government agencies rely on Yardi Voyager to operate their systems efficiently. Read more.