Nepal Earthquake
By Leah Etling on Apr 28, 2015 in News
The devastating earthquake that struck Nepal Saturday has prompted rapid international response to a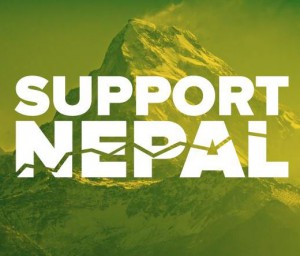 id the millions of people affected. Thousands of people were killed, with the death toll changing daily, and up to 8 million Nepalese are estimated to be impacted.
Shelterbox USA, a disaster support non-profit that is rooted in Rotary volunteerism, immediately dispatched a team to Nepal upon learning of the quake. They will establish a plan for distribution of ShelterBox kits, which allow people to "shelter in place" by providing necessary supplies.
Shelterbox kits include a tent, water purification system, solar lamp, blankets, and other basic needs supplies to help people who have been left with nothing after a disaster.
Yardi was contributed to Shelterbox in the past, including after Typhoon Haiyan in 2013. Often, the organization will seek to distribute its relief efforts in rural, hard to reach areas far from the more accessible urban centers, which are plentiful in the mountainous country of Nepal. Shelterbox was prepared in advance for a Nepal response effort, with prepositioned tents ready to go in case of an emergency.
Yardi employees and corporate charitable giving program will combine to contribute funds in support of Shelterbox's Nepalese efforts. The company supports more than 80 non-profit organizations and worthy causes each calendar year.
**
Just two months ago, Yardi CSD manager Terry Kelly and his wife Pam took the trip of a lifetime to Nepal, where they assisted with a two-day medical outreach organized by Project for a Village. It was a powerful experience in an remote agricultural area with limited health care resources, Kelly recalled.
Kelly said that the epicenter of the earthquake was located close to the foothill valley where the medical team had gone to work with local residents. The 7.8-magnitude quake, and numerous aftershocks, devastated countless Nepalese villages without warning and destroyed buildings as far away as Kathmandu.
The following list of a variety of aid organizations and efforts on behalf of the Nepalese people was compiled by Project for a Village, which is redirecting all of its fundraising efforts for now to immediately towards earthquake relief.
The organization's emergency response team is on the ground in Nepal, trying to provide critically needed medicines and supplies, including hygiene kits and water purification tablets, to survivors. Teams of doctors, nurses and logisticians will try to operate mobile medical units in the hardest-hit areas.
Handicap International has been working in Nepal since 2000 and has 47 volunteers on the ground distributing wheelchairs and other mobility aids, and providing help with rehabilitation and logistics.
Santa Barbara-based Direct Relief has an emergency response team in and around Kathmandu, and are working with Doctors for You to aid earthquake victims. 300 pallets of disaster relief supplies are available for use, and a financial commitment of $500,000 in support has been made.
The United Nations Children Fund is providing supplies like water purification tablets, hygiene kits, tarps and nutrition supplements for children and families affected by the earthquake, and working with the government and other partners to meet children's immediate needs.
PayPal has set up a disaster relief campaign with international aid organizations working directly and through local partners to provide relief. PayPal said it would cover all costs associated with donations it received through the site, and also refund transaction fees to qualified nonprofits participating in the relief and recovery efforts.
Mercy Corps
Mercy Corps has been in Nepal since 2006 and has more than 90 volunteers on the ground trying to distribute water, shelter kits, mosquito netting, tarps, cooking utensils, hygiene materials and other household provisions.@mercycorps on Twitter.
Catholic Relief Services 
Catholic Relief Services and its partner organizations have begun procuring emergency relief materials, like shelter kits and sanitation and hygiene materials.
Habitat for Humanity International 
The group says its disaster response teams are coordinating efforts with local government agencies and disaster relief partners, and will be assembling emergency shelter kits.
Global Giving 
Money donated to support relief operations in Nepal will go toward helping first responders meet survivors' immediate needs for food, fuel, clean water, hygiene products and shelter, the organization said. "Once initial relief work is complete, this fund will transition to support longer-term recovery efforts run by local, vetted local organizations," it said.
The American Jewish Joint Distribution Committee 
The New York-based nonprofit is providing medical assistance through aid workers traveling from India to Nepal.
Oxfam
Oxfam is an international coalition of charities dedicated to fighting poverty. Aid workers from the group are on the ground, preparing to hand out food and water.
World Vision
"We are initiating a response to meet basic, urgent needs with temporary shelter, food, water, emergency health interventions and other vital aid," an Oxfam spokesperson said.
Red Cross
Volunteers from the Nepal arm of the Red Cross are helping in the search for survivors.
United Nations World Food Program
The United Nations agency is providing food and other aid to survivors.
Samaritan's Purse
Samaritan's Purse is a Christian organization providing food, water, shelter, medicine and other assistance to earthquake survivors.
CARE
CARE is asking for donations for critical relief. The group said its humanitarian workers were on the ground assessing the situation in Nepal and determining the most immediate needs.
Save the Children
Donations to Save the Children, an organization with extensive reach in Nepal, will go toward efforts to provide protection for children and relief to their families.
Lutheran World Relief
The charity, which normally provides technical help to impoverished farmers, said it was assessing the situation in Nepal, but its relief efforts would probably include providing cash transfer programs, water filtration units, quilts and personal hygiene kits.
Jewish Federations of North America
The coalition of Jewish federations and communities focuses on rebuilding and improving infrastructure after natural and man-made disasters. In Nepal, the groups are working to determine what survivors' immediate needs are, and plan to send emergency supplies that will arrive by Tuesday.
SOS Children's Villages
The organization has been in Nepal since the 1970s and has three "villages" around Katmandu. It has set up an emergency fund to create safe spaces for children and help reunite children separated from their families.
Doctors Without Borders
The organization is sending eight teams of health care providers, including eight surgeons, to assist earthquake victims and distribute supplies.
MAP International
MAP International, a global Christian health organization, will distribute what it calls an "interagency emergency health kit" that will treat 10,000 people for 90 days, and supply a container shipment of medicines and supplies.
International Relief Teams
International Relief Teams has already ordered a shipment of emergency medicines to be airlifted to Nepal, and is asking for donations to send more.
American Jewish World Service
The organization, which is dedicated to fighting for human rights and against poverty, is raising money to distribute to aid organizations in the hardest-hit areas of Nepal.
The Salvation Army
The Christian charity's response includes basic necessities like food, water and shelter.