Life-Saving Furniture
By Erica Rascón on Sep 26, 2013 in News
After seeing the haunting images of crumbled school buildings in Haiti, designer Arthur Brutter knew the focus of his upcoming academic project. He wanted to use design to save lives.
Brutter, a student at the Bezalel Academy of Arts and Design in Jerusalem, teamed up with Professor Ido Bruno to tac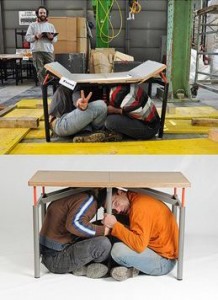 kle the true danger behind seismic events: falling debris.  The EPA estimates that Americans spend about 90 percent of their time indoors. While that percentage varies throughout the world, the concept draws attention to the hazards surrounding our indoor environments. A collapsed roof or fallen wall becomes lethal. Ducking and covering under the average table won't help much.
Brutter buckled down to months of research. He sought to create a table design that would shield people from the dangers of falling debris yet was lightweight enough for youth to lift and carry it. Perhaps the biggest challenge, though, was to set the table at a price point where it could be feasibly used in both developed and developing nations whose school children are at the mercy of earthquakes.
With those factors in mind, the building materials became just as important as its blueprint. The table could not be made of titanium or some rare biological matter embedded with Superman's DNA. It had to be cheap, light, and durable. After months of planning and trials, Brutter and Bruno brought a prototype to the lab that could successfully withstand record-breaking impact while staying lightweight and cost effective.
The end result is a wonderfully practical, marvelously plain little table. Award-winning designer Ron Arad served as the duo's mentor, helping to finalize the design. "It's not about doing a showstopper visually," he says. "But doing a disaster stopper and it should be judged as this."
But the table is a stopper of sorts.
It can stop up to one ton of weight from crushing those who seek shelter under it; weight is distributed across the top of the table and debris is discarded off of its sides.
It can stop delays caused the fallen debris that prevent rescue teams from reaching those in need; by aligning the tables in rows, as often done at schools, the tables create a passageway through which survivors can travel after the quake. The same tunnels can also be used by rescue personnel.
It can stop rising death tolls across the globe; minimizing the damage caused by vertical impact and creating faster routes for rescues could lead to fewer fatalities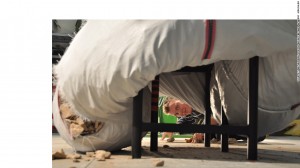 The table earned the Design of the Year award at the Design Museum in London. New York's Museum of Modern Art also took an interest in it, acquiring the piece as part of its permanent collection. As prestigious as those acknowledgments may be, Brutter adamantly expresses the need for the design to be put to use in practical settings.
"It's always a good feeling to be recognized, but really it's not awards but exposure leading to the possibility of the table being used," he says. "We want there to be no earthquakes, and we want it (the earthquake-proof table) to be used to save lives."
The table's simple design makes it a viable furnishing option for multiple locations, including offices, warehouses, institutions and residences—any indoor space resting along a fault. Consumers may soon expect a series of design options but for now the streamlined table is being manufactured by A.D. Miraz Industries.