Sustainable Fashion
By Joel Nelson on May 2, 2022 in News
When one thinks about big sustainability impacts, agriculture, energy production and other brawny industries often come to mind. But the manufacture, transport and disposal of t-shirts, pajamas, blouses and other garments create a sizeable footprint too.
In fact, garment production and transportation account for up to 10% of global greenhouse gas emissions, more than the aviation and shipping sectors combined. Growing and dyeing clothing material consumes 93 billion metric tons of clean water globally each year, about half of what Americans drink annually. Scientists estimate that 35% of the microplastics in the world's oceans, which can take hundreds of years to decompose, can be traced to textiles. Three-quarters of shirts and shoes end up burned or buried in landfills. Less than 1% of clothing is recycled into new garments and over 25% of returned items end up being thrown out.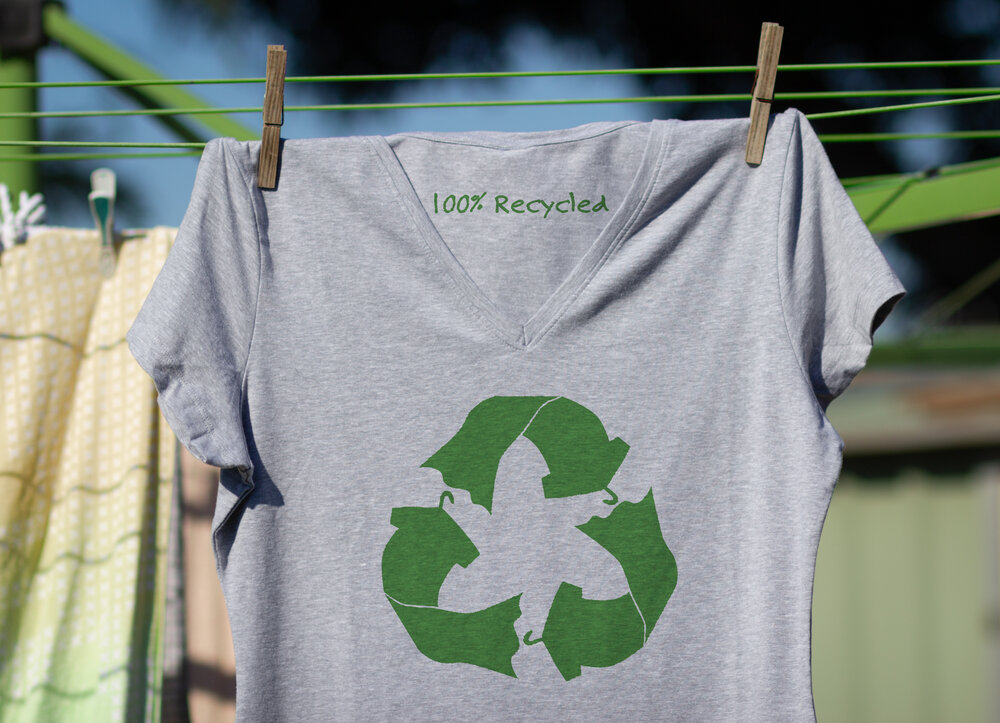 "Because it is hard to make a better performing or more efficient blouse, handbag, or pair of socks, to motivate consumption, the industry pushes change. Not better — just different, cheaper, or faster," said Kenneth P. Pucker, former COO of footwear manufacturer Timberland, writing in Harvard Business Review in January.
'The biggest issue' for the industry
Statistics like these are why Judith Magyar, a brand contributor to Forbes, describes sustainability as "arguably the biggest issue confronting fashion brands right now." The industry, she says, "is waking up to the fact that decreasing its environmental impact will pay big dividends to both its constituent companies as well as society at large."
Rising environmental, social and governance scrutiny is one reason for this growing awareness. "Younger consumers value transparency, honesty and authenticity. Companies that are upfront with their products — everything from where and how they are manufactured to the materials used and the environmental impact — may stand a better chance of winning over this audience in the long run," according to Magyar.
In response, some fashion participants are embracing "circularity," a business model where "waste and pollution are eliminated, and materials are used for as long as possible, then reused for new products to avoid the need to exploit virgin resources," as described by Renee Cho of Columbia University's Columbia Climate School.
Evidence of a shifting mindset
Although sustainability progress has been slow by some measures, "heightened conversation and urgency is a positive sign. Critics are encouraged that some of the biggest brands and highest-ranking executives are talking about end-of-life impacts and establishing biodiversity strategies, reflecting a shift in mindset as new strategies are developed," says Rachel Cernansky, sustainability editor for Vogue Business.

For example:
Nike introduced "Reuse-A-Shoe" collection points at some stores, separating and turning the rubber, foam, leather, and textile components into granules for creating new footwear.
Hunkemöller, Europe's top lingerie retailer, encourages customers to bring back disused textiles for recycling.
Outdoor clothing retailer Patagonia established an online platform for repairing, trading in and reselling used clothing.
Stockholm-based clothing retailer H&M Group introduced Looop, an in-store recycling system that cleans discarded garments, shreds them into fibers and spins them into new fashion items, without water or dye. Los Angeles materials science company Ambercycle Inc. is working with H&M and others to develop and scale this technology.
Spanish clothing company Inditex made a commitment that 50% of the items it sells in 2022 will be made with recycled materials and "ecologically grown cotton."
American fashion designer Yeohlee Teng employs geometric concepts to use every inch of fabric and creates garments with the leftovers of other pieces.
The Fabricant replaces garments with digital samples in the design and development stage. The Amsterdam-based digital fashion designer claims this process can reduce a brand's carbon footprint by 30%.
Netherlands CO2 technology specialist DyeCoo developed a dyeing technique that uses waste CO2 in place of water and chemicals.
North Face, Patagonia and other brands are creating clothing made from regenerative cotton, which is grown without pesticides, fertilizers, weed pulling or tilling.
Various start-ups are exploring using algae, leather fermented from bacteria and yeast, plant cellulose, lab-grown silk and other renewable bio-based materials.
Consumers, of course, can also be leaders in promoting fashion industry sustainability:
Purchase only what you need.
Buy from sustainable brands with transparent supply chains. Check the Fashion Transparency Index to see a company's transparency ranking.
Choose natural fibers and single fiber garments.
Wear clothing for longer by taking care of it. Wash items less often, repair them so they last.
Buy secondhand or vintage and sell or donate your old clothes.
Technology also plays a role in fashion sustainability. Blockchain, for example, can help track all elements of a product including the materials used, chemicals added, production practices, and product use. This helps stakeholders verify whether the fabric is ethically sourced and as sustainable as claimed. French startup Heuritech uses artificial intelligence to analyze product images from Instagram and Weibo and predict trends. Adidas, Lee, Wrangler and other brands have used AI to anticipate future demand and plan their production accordingly to reduce waste.
Sustainability in the fashion industry remains a work in progress. "While the idea of circularity is still far from being a widespread reality, perhaps the most important takeaway for fashion retailers looking to succeed … is that doing good can certainly impact the top and bottom line. Any effort to become more sustainable and less wasteful will result in becoming a better company," Magyar says.
"Fashion is often said to both reflect and lead culture — the industry has a once-in-history opportunity to demonstrate that creativity and respect for boundaries can lead to authentic sustainability," Pucker adds.
Yardi is a sustainability leader among U.S. businesses as an ENERGY STAR® Partner of the Year Sustained Excellence Award winner and an ENERGY STAR-certified building operator.