Yardi Buildings Earn
By Joel Nelson on Mar 15, 2022 in Energy
Yardi has successfully incorporated energy efficiency at multiple locations across the property management industry – including the home front, where the company recently earned separate ENERGY STAR® certifications for two office buildings at its corporate headquarters campus in Santa Barbara, Calif.
ENERGY STAR, a voluntary U.S. government program that certifies buildings and consumer products as meeting certain standards of energy efficiency, rated one building a score of 86, signifying that it's more energy efficient than 86% of similar properties nationwide. The second building received a score of 80. The certification threshold is 75%.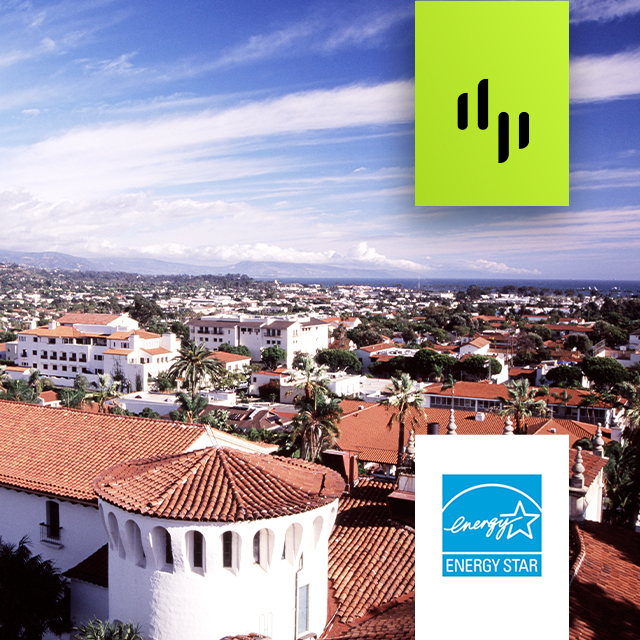 Yardi benchmarked the two buildings, which encompass 170,000 square feet, in Portfolio Manager®, an ENERGY STAR interactive online resource management tool that measures and compares building energy use.
On average, certified buildings use 35% less energy and generate 35% fewer greenhouse gas emissions than their peers, according to ENERGY STAR, which is jointly managed by the Environmental Protection Agency and the Department of Energy.
The buildings' certifications continue a years-long series of Yardi energy efficiency achievements. For example, the company helps hundreds of clients benchmark energy and water consumption in thousands of buildings, participates annually in Energy Efficiency Day, and promotes energy optimization software in client conferences, industry publications and other educational venues.
In 2021 Yardi received a Partner of the Year Sustained Excellence Award, the ENERGY STAR program's highest honor, after earning Partner of the Year designation for three consecutive years. Also that year, the company earned a regional Energy Project of the Year award from the Assn. of Energy Engineers for helping to optimize HVAC performance in a 58-story building in New York City.
Referring to the building certifications, Joe Consolo, industry principal for Yardi, said, "Yardi is pleased to meet ENERGY STAR standards in its own operations using the same innovative solutions that help our clients save money, increase efficiency and meet compliance obligations. We will continue our vigorous efforts to promote ENERGY STAR participation among all of the property management markets that we serve."
Learn more about how Yardi ENERGY STAR building certification and benchmarking services can increase energy efficiency in all sizes and types of properties.