Energy Efficiency Day
By Joel Nelson on Nov 9, 2021 in Energy
On Oct. 6, Energy Efficiency Day addressed a topic with vast local, regional, national and global implications throughout the year. Yardi was pleased to observe the event with more than 800 local governments, universities, organizations, corporations and utilities.
This year's event coincided with the 30th anniversary of the U.S. Environmental Protection Agency's (EPA's) climate partnerships program, a collaboration between private and government organizations that has prevented more than 6 billion metrics tons of greenhouse gas emissions – more than all U.S. carbon dioxide emissions in 2019.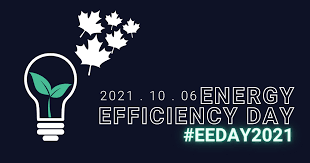 "Energy efficiency is the cheapest, quickest way to meet our energy needs, cut consumer bills and reduce pollution. Energy efficiency is also an economic engine, supporting over two million jobs nationwide in manufacturing, construction and other fields," according to the Energy Efficiency Day organization's website.
Energy Efficiency Day, an early-October fixture since 2016, promotes awareness by encouraging home and business energy audits, energy-saving competitions, success story sharing using the #EEDay2021 hashtag and more. Participants seek to promote easy-to-implement measures for businesses and individuals, including:
Scheduling regular inspections for refrigeration equipment, furnaces, heat pumps and other equipment.
Turning on computers, monitors, printers and fax machines only when they're needed.
Locating and sealing air leaks around the house. Even hidden drafts can hurt your energy efficiency.
Staying cool in school. Did you know that the average 200-square-foot dorm room can generate as much greenhouse gas pollution as the tailpipe emissions of a car driven more than 2,000 miles? Consider setting rooms with individual temperature control a few degrees higher to reduce the cooling system's energy use.
Purchasing home appliances carrying the ENERGY STAR® label, which certifies adherence to strict EPA energy-efficiency standards.
Turning off lights when leaving the room and consider swapping regular light bulbs for LEDs.
Running ceiling fans clockwise and at low speeds during heating season to redistribute the warmest air in the room.
Installing a programmable or smart thermostat that saves money by automating lower temperatures while occupants are away. A smart thermostat also offers full control from smartphones or tablets.
For its part, Yardi remains committed to promoting efficient energy management in the property management industry. The company's achievements over the past seven months include:
Earning a regional 2021 Energy Project of the Year designation from the Assn. of Energy Engineers for helping to optimize HVAC performance in a 58-story building in New York City with the Yardi Pulse Suite.
Using Yardi Facility Manager and Pulse Fault Detection in a combination unique in the commercial real estate industry to help property managers preemptively address equipment failures and automate work order creation when a fault is detected.
Receiving the 2021 ENERGY STAR Partner of the Year Sustained Excellence Award from the U.S. Environmental Protection Agency and the U.S. Department of Energy. This is the ENERGY STAR program's highest honor.
Learn more about energy-saving tips you can use all year round – and mark your calendar for the next Energy Efficiency Day on Oct. 5, 2022.