Fashion Retailers
By Joel Nelson on Jun 14, 2021 in News
Stay-at-home orders, occupancy limitations and business closure orders during the pandemic took a big toll on fashion merchants. Renowned retail brands such as Neiman Marcus Group, J. Crew Group Inc., Brooks Brothers, Ascena Retail Group (operator of Ann Taylor, Lane Bryant and others) all filed for bankruptcy protection last year as sales plummeted 86% in the first months of the pandemic. Others, like LVMH Moët Hennessy Louis Vuitton, Macy's, H&M and Burberry, closed outlets or trimmed payroll amid drastic sales slumps.
The Washington Post reported in April that nearly 200 U.S. department stores have disappeared in the past year alone, with another 800, about half the country's remaining mall-based locations, potentially being shuttered by the end of 2025.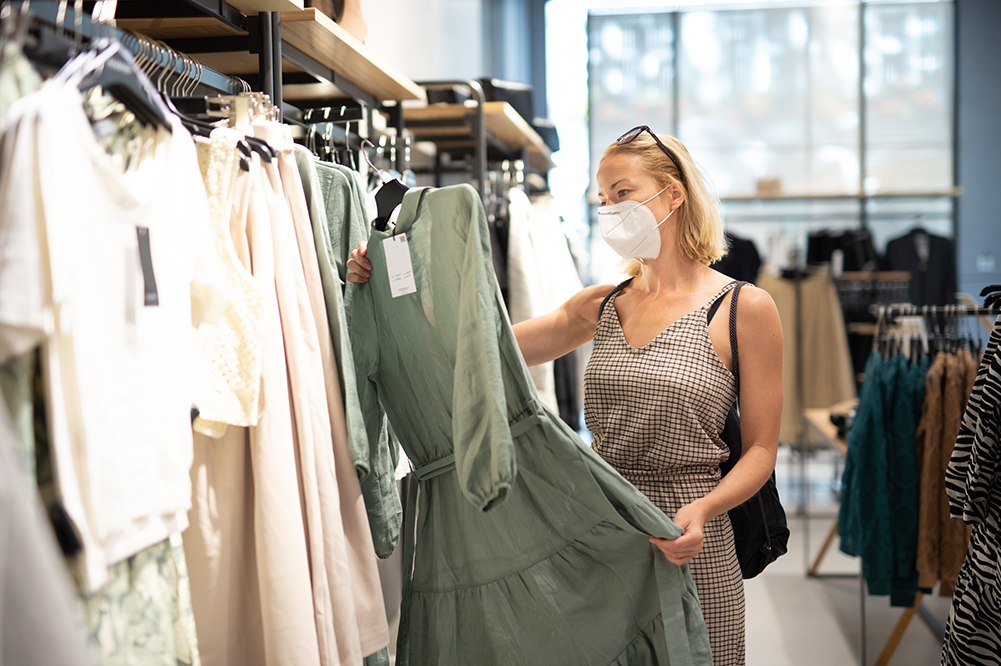 While U.S. consumers shelled out $192 billion more for online purchases in 2020 than they did a year earlier, online clothing sales rose far less than did food and beverages, consumer electronics, personal care and home furnishings. In February, U.S. spending at clothing and accessories stores was down 11% from a year earlier, according to the Commerce Department; overall retail sales grew 6.3% in that period.
Purchasing perks up
One reason for depressed store sales, of course, is e-commerce. Mark Cohen, director of retail studies at Columbia Business School and former chief executive of Sears Canada, notes, "The customer who used to be handcuffed to their local department store is no longer tethered because they have an online alternative that's become even more attractive in the last year."
But things could be looking up for retail. The U.S. Commerce Department reported that overall retail spending rebounded sharply in March, rising 9.8% after the dip in February. Department store sales rose 13% from a month earlier, boosted by stimulus checks and pent-up demand.
"What we're seeing emerging … is a resurgence of consumer demand for apparel and accessories," including dresses, suites, dress shirts, tuxedos, tailored jackets and more, says Tim Baxter, chief executive of mall chain store Express.
"All of a sudden apparel and footwear sales are starting to show some signs of life," adds Marshal Cohen, a retail analyst for market research firm NPD Group. "We have a vaccine, people are planning vacations and socializing again. There is a light at the end of the tunnel."
The Post says, "The revived interest in apparel could be an early hint of the burst of spending that many economists expect to take hold as the country approaches herd immunity more quickly than anticipated and savings rates surge to new highs."
Caution amid welcome signs
But analysts caution that a spike in spring and summer apparel sales isn't likely to last beyond the initial burst of demand. There are still nearly 10 million fewer jobs than existed before the pandemic, and more than 4 million people left the labor force. "Retailers have to be careful that they don't think this is the total recovery because it's not," said Cohen, the NPD Group retail analyst. "It's a false positive — there's going to be a rush to go out, but that doesn't mean it's going to sustain at that level."
Retailers also have to worry about tying their fate to shopping malls, whose vacancy rate reached 11.4% in the first quarter of 2021 compared with 10.5% the preceding three months.
New paths to viability
To survive in the new era, experts say, department stores have to offer more. "They need smart curation, high-touch service and personalization," says Greg Portell, a partner in the consumer and retail practice of consulting firm Kearney.
Sean Barron, cofounder of fashion brand RE/DONE, senses a trend toward more intimate surroundings, predicting that shoppers "will favor smaller-footprint retail stores and mono-brands that are smaller. Smaller in terms of square footage — they don't want to be around a lot of people," meaning it will be "a long time before they run into a major department store and really feel comfortable."
A joint McKinsey/Business of Fashion report concurs, noting that "as retail localization trends evolve, we're likely to see increasing numbers of small stores, enhanced with hand-picked inventories, and neighborhood stores designed to forge local connections."
Industry news source Fashionista, meanwhile, envisions brick-and-mortar as "more as a vehicle for marketing and customer acquisition, versus purely as a distribution channel.
"In the past, a prime retail location might be in a mall or major, tourist-heavy shopping thoroughfare, like lower Broadway or Fifth Avenue in New York or Rodeo Drive or The Grove in L.A. Because the pandemic effectively eliminated tourism and relegated residents to their own neighborhoods, it allowed smaller, community-focused local shops to thrive."
The old-line stores are attempting to turn new shopping trends to their advantage. Saks Fifth Avenue, for example, is expanding its e-commerce presence by spinning off its website into a standalone company. A new online channel from Nordstrom lets shoppers buy merchandise during live-streamed events. Neiman Marcus is also investing in e-commerce, hosting virtual shopping events and making store employees available by text, email and video chat.
Pronouncements of the death of retail, and malls in particular, may be premature. "In an odd way, sometimes the best thing to happen to any business is finding a new and improved way of operating," says Telsha Anderson, an entrepreneur who opened a boutique in New York's Meatpacking District last summer.
Olivia Cheng, another entrepreneur who founded a corner shop in the city's West Village in March, adds, "Community is working, relationships are working and people are so eager to connect with new people. I feel like it's a good time for new life to enter [into retail]."
Storing, managing and utilizing retail property data are as important as inventory, location and demographics in determining the success of a retail center. See how Yardi software optimizes mall and shopping center revenue by automating key activities.