Rent Relief Summit
By Mike Sederholm on Sep 20, 2022 in Events
A group of Yardi employees met in Atlanta late this summer for a first-of-its-kind staff summit. The gathering was an opportunity for the team to share challenges, successes, and plans to optimize Yardi's new Core Relief suite of products.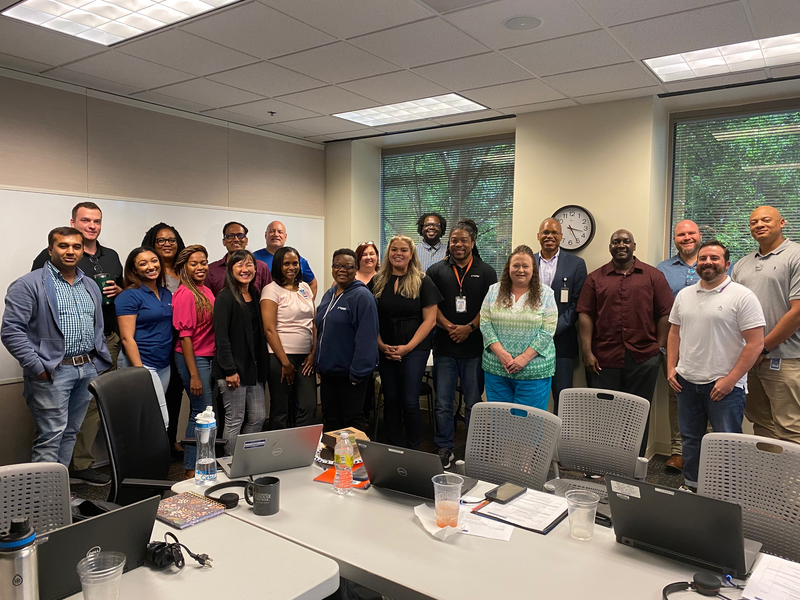 The weeklong event brought together Yardi project managers, case supervisors, file auditors, service managers, payment processors, call center agents and legal staff. This contingent of Yardi employees began developing, marketing and implementing Yardi Relief software and service solutions in early 2021.
"I am so proud of this entire department! This team is extremely passionate about our Relief suite and the impact it means to our communities." said Elisabeth Daniels, director for Yardi.
Rent Relief was the first product from the suite released by Yardi. Rent Relief simplifies and streamlines how state, county and city housing agencies implement Emergency Rental Assistance Program (ERAP) funds. ERAP funds are tied to economic recovery legislation enacted in response to the COVID-19 pandemic.
Rent Relief has processed more than $1.3B in payments to households who used the Yardi solution to qualify for assistance.
"ERAP's success depends on quickly qualifying renters and landlords in need of economic assistance due to financial hardship during the pandemic. Rent Relief enables our clients to quickly and securely collect applications, determine eligibility and disburse payments to landlords, renters and utility companies. We have leveraged the success of Rent Relief to expand our Relief solution and support other direct-to-beneficiary programs," said Daniels.
The Yardi Relief Suite now includes Mortgage Relief, designed for states that have been granted funds to assist homeowners in financial need due to the pandemic. Similarly, Utility Relief is a management solution for programs that help residents behind on utility payments.
The final piece of the suite is Core Relief, which is available to service agencies that manage any type of direct financial assistance programs for people experiencing hardships not necessarily related to the pandemic.
"This group has done a stellar job using proven technology to create a new and exciting product. This summit was a way to bring us together to share information and to learn how to better serve our clients," said Daniels.
The Relief Summit concluded with a presentation by Chef Aaron Dillon. Dillons' catering company includes a nonprofit division called Shepherd's Kitchen, which operates under a mission of teaching the benefits of farm-to-table food preparation. An onsite garden at Shepherd's Kitchen produces food the chef uses to prepare artistic dishes for learners. Find Aaron on Instagram at @chefadillon
"Chef Dillon's message was very relatable to our work with Relief. Just like growing food from a garden and ultimately serving it to customers, implementing and supporting the Relief Suite is a process that has important steps that we need to be mindful of to make sure it turns out well for everyone," said one attendee.
Visit CoreRelief.com now to learn more about Yardi's Relief Suite.