Pet Therapy Pros
By Nik Edlinger on Dec 17, 2019 in Events, News
One of the best forms of therapy for older adults is also the furriest. Turns out, a friendly dog or two can do a lot to lift the mood and health of those who live in senior living communities.
Pet therapy (or animal-assisted therapy in non-layman's terms) is a service where animals – usually dogs – are brought in for short visits. Residents get the opportunity to interact with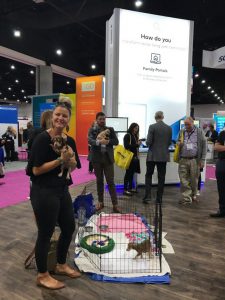 the animals by holding and petting them or simply sitting alongside and watching. Either way, the experiences often bring smiles to faces and wags to tails, and science has shown there are many more benefits besides.
What benefits does pet therapy provide?
Mental: Caregivers often report higher levels of happiness in residents after an animal visit, but the changes can be seen in the brain chemistry too. Studies reveal that the act of petting a dog can cause the brain to release serotonin, prolactin and oxytocin, "feel-good" hormones that help regulate and elevate your mood. At the same time, a visit by a dog can drop your level of epinephrine, a hormone produced by the body under stress.

Physical: Pets can do one's heart good – literally. Weekly visits with therapy dogs can lower blood pressure for older adults, while pet owners have been shown to have a 33% lower risk of death following a hospitalization for a heart attack. Pet therapy can even decrease use of antidepressants and medical services.
Social: Animals provide unconditional companionship, which can help people feel less lonely. In one study, senior living residents who received 30-minute pet therapy sessions weekly for over a month scored significantly lower on loneliness scales than those who did not. Therapy animals also motivate residents to communicate more, even those with memory conditions like Alzheimer's.
Given so many good reasons to interact with therapy animals, we decided to offer attendees at this year's LeadingAge conference the same opportunity. If you had the chance to drop by the Yardi booth, you would've been greeted by our friends with four legs. Who needs booth swag when you've got puppies?
We want to say thanks again to Helen Woodward Animal Center in San Diego County for joining us and bringing the pups. They were the stars of the show, providing a welcome break and a warm hug for many attendees at the busy event.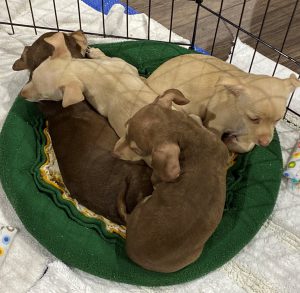 In addition to conferences like LeadingAge, Helen Woodward offers their pet therapy services to people across all types of care settings. In fact, they were recently featured in the San Diego Union-Tribune for their work in senior living facilities. We fully recommend giving the article a read.
How can I bring pet therapy to my own community?
As the Union-Tribune helpfully points out, the American Journal of Infection Control has put together guidelines for interacting with animals in your facilities. Essentially, there's more risk of infection with certain types of animals like reptiles or small rodents, and everyone should sanitize their hands before and after the visit.
You should also look to partner with a nonprofit organization that's been certified for the purpose. These groups organize training for their animals and their volunteers, so you know you're in safe hands (or paws, for that matter). They also have insurance in case anything does go wrong. The American Kennel Club provides a handy list of certified groups along with the regions they operate in.
So if you're looking for an activity in your community that promotes both happiness and health, you've found it. Just fifteen minutes of bonding time with a therapy animal can have lasting benefits for your residents.