LeadingAge Learning
By Nik Edlinger on Oct 10, 2019 in Events, News
There are many conventions and shows in the senior living industry, each uniquely positioned for a local audience, a certain role or a special purpose. But there's one event that unites more people from across the care community than any other: the LeadingAge Annual Meeting and Expo.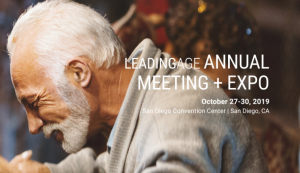 This year, the conference takes place from October 27-30. Close to 4,500 senior living professionals will flock to San Diego for four days of learning and relationship building. Event organizers have put together session tracks for sales, marketing, care, operations, legal and more. Anyone in the industry is sure to find something for them.
You know the Yardi team will be there too. We've got Booth 1417 at the expo, so come by and see what we've been working on. Our suite of tools for senior living management are designed to connect all parts of your business on one integrated platform. Kind of like LeadingAge, there's a solution for everyone. (Plus, we'll have some small, furry, four-legged guests you won't want to miss. More on that down below!)
If you're a salesperson or marketer
We'll show you how to drive revenue and increase occupancy. Yardi Senior CRM helps you effectively manage your sales and marketing efforts from initial contact all the way through signing a lease and becoming a resident. Shorten your lead response times with automated follow-ups, then build a personalized communication flow to keep them engaged. When they're ready to sign, cut through the paperwork with online leases that generate documents in a click.
If you're a caregiver
You'll learn how to improve resident satisfaction and simplify your own workload at the same time. Instantly access resident's care needs, eliminate errors and capture progress with Yardi EHR, our electronic health record platform designed to work on the go. You don't have to lug paper files with you or return to the office for answers. Everything you need to manage care is available in a mobile-friendly format, so you can complete care tasks faster and spend more time with your residents.
We can also take you through ways to reduce risk while providing better care. Yardi eMAR is a streamlined medication administration solution that incorporates compliance regulations, community protocols and resident preferences right into its charts. Rest easy knowing that you're passing the right medication to the right person at the right time.
If you're an owner & operator
You'll quickly discover why a single connected solution for senior living is so valuable. All of the solutions above stand on the same foundation, Yardi Voyager Senior Housing. This complete property management and accounting platform centralizes all your operational and residential information in one secure, cloud-hosted database so you can gain visibility into everything across your business. Stay informed with real-time tracking and reports that pull data from each solution. There's no need to search through multiple programs or have staff renter information. It's a level of transparency that separate systems just can't provide.
And if you're an animal lover
You'll get to meet the stars of this year's trade show. We've partnered with the Helen Woodward Animal Center in San Diego County to bring puppies to our booth for you to hang out with and hold. Helen Woodward is a nonprofit organization that's been committed to the philosophy of "people helping animals and animals helping people" for over 40 years. They adopt out thousands of animals annually, and they offer pet encounter therapy in care settings – including senior living communities – to help people de-stress, relax and enjoy their day. We bet these little guys will leave a big impression on you too.
So if you're going to LeadingAge 2019, don't miss your chance to see what the Yardi Senior Living Suite can do – and make a couple furry friends while you're at it. Prefer to plan ahead? Reserve a time to talk. The senior living team be happy to answer every question you have.