NIC Spring Conference
By Nik Edlinger on Feb 21, 2020 in Events, News
The health care industry has never been that big of a player in senior living, despite what you'd think.
Since Medicare traditionally does not cover long-term care, many hospitals, physicians and service providers have largely overlooked the opportunity that independent and assisted living communities can provide for better health outcomes.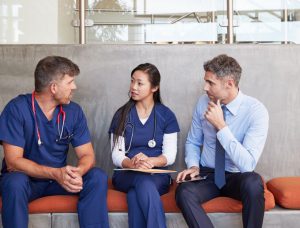 But regulations are slowly changing, conversations are quickly starting — and the NIC Spring Conference is at the center of it all.
Set for San Diego, March 4-6, this year's event once again explores the intersection of senior housing and health care. Thousands of industry professionals, including operators and investors, will have the chance to shake hands and forge the relationships that will push senior care forward.
But what makes the NIC Spring Conference unique is the growing number of health care providers who also attend. As supplemental benefits under Medicare increase and Medicare Advantage plans gain momentum inside senior living communities, more and more health care decision-makers now recognize the value of partnering closely with senior living providers.
To top all that off, we'll be there too. We're sponsoring the general session luncheon, and we'll be around to chat each day, so we hope you make it as well. This year's conference promises to be another standout.
New ways to network at NIC
Interested in connecting with a potential health care partner at NIC? Plan a braindate.
The app-enabled networking service is new this year. Essentially, you search for a topic and then schedule a quick one-on-one conversation or group meeting with fellow attendees. It streamlines the process of finding the right person for the discussions you need to have and the decisions you want to make.
The networking lounge also returns this year. But you can now reserve dedicated meeting spaces in the lounge to make your meetings easier to hold. Plus, you can grab a "talk to me about" ribbon to display on your conference badge. That way, other attendees with shared interests have an easy ice-breaker.
To further change things up, the networking receptions this time around will be themed. Wednesday's evening event will encourage discussions on collaboration between senior housing and health care, per the conference's focus. Thursday's breakfast will be geographical, so you can join attendees from your part of the country.
Real data, real rates
In addition to health care networking opportunities, you can bet that the NIC Spring Conference will feature hot-off-the-press data on senior living's biggest trends.
NIC actively tracks prices and move-in activity across the industry through their Actual Rates Initiative, which provides useful benchmarks for providers and promotes transparency in the senior housing sector. The data also allows NIC to monitor competitive discounting to see what residents are actually paying compared to asking rates.
But without you, none of that would be possible. The Actual Rates data comes from senior living providers who voluntarily share their rates through their software platform of choice. Yardi was the first to partner with NIC on the initiative by integrating a reporting option into Yardi Voyager, so if you haven't participated yet, get in touch and we'll show you how to take part.
You can also connect with us in person at the NIC Spring Conference. Just schedule a time to talk, and we'll see you in San Diego!