Efficient Social Housing
By Erica Rascón on Oct 12, 2019 in Events, News
Technology is transforming the way social housing providers manage properties. The technological advancements that have already transformed financials and operations are now automating resident-based transactions. The results are increased efficiencies for clients and greater empowerment for staff.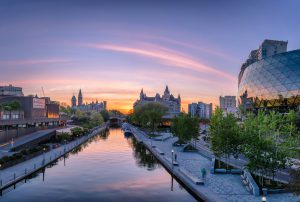 Peter Altobelli, vice president of sales and general manager for Yardi Canada, explored four benefits of technology for applications and waitlists in the Ontario Non-Profit Housing Association Procurement Newsletter. Check out a sneak peek of the article below.
Revolutionized Application Process
Traditional social housing applicant intake processes rely heavily on in-person interviews. Those interviews run the risk of miscommunications and require a lot of time for your staff and prospective residents.
"Online, self-service application workflows present each applicant with a consistent experience, conveniently available 24/7. Applicants can submit their information when it's most convenient for them from any web browser with digital accuracy. This provides more efficient use of staff's time when reviewing applications," said Altobelli.
Manage Waitlists in Real-Time
Using conventional mail notifications, updating waitlists is a lengthy process. Convenient online user portals connect waitlisted households to leasing office staff in real-time.
"Connected technology makes it possible for social housing providers to efficiently upload documents, respond to housing offers and notify staff of changes and pending approvals, in real time, and maintain updated waitlist," explained Altobelli.
Innovative technologies enable staff to meet the needs of applicants and residents while reducing administrative workloads for staff. Get the full story, including the benefits of electronic CRM, at http://qc.onpha.on.ca/