Ready to network?
By Natalie Mahn on May 9, 2022 in Events, Senior Living
Argentum is well known for their advocacy efforts in senior living. From influencing policy decisions to informing the public about pressing issues, they're always working to better the lives of older adults.
This makes their annual conference a can't-be-missed opportunity. The event gathers thousands of senior living professionals, operators, owners, executives and community leaders to discuss the future of senior living. And this year, you can connect with team Yardi at booth 805.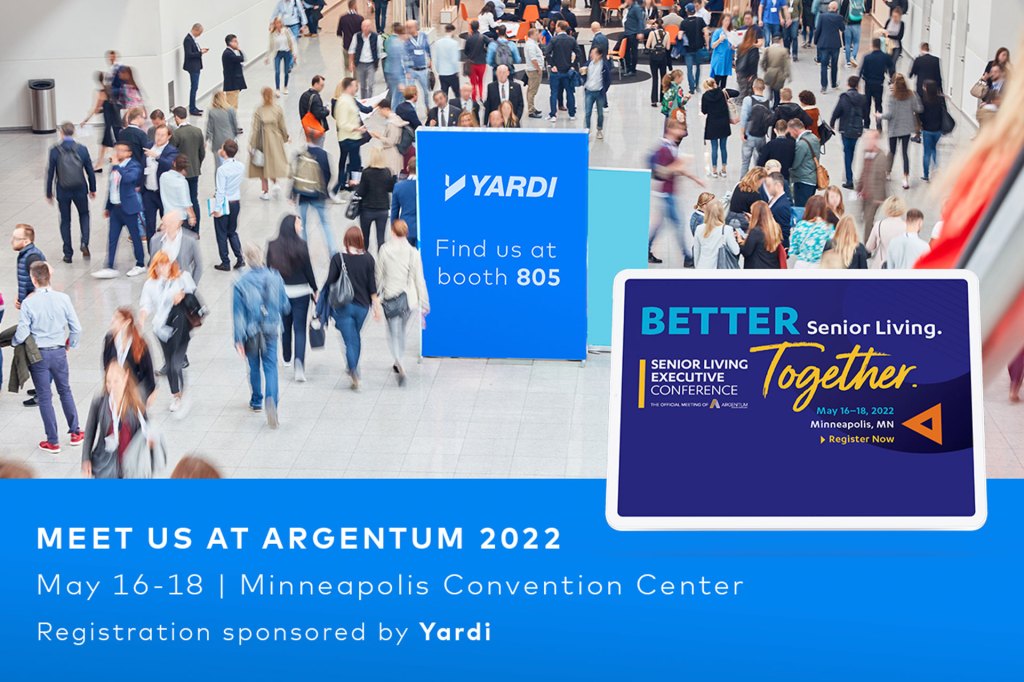 Ready to network at the Argentum Senior Living Executive Conference? We'll see you May 16-18 at the Minneapolis Convention Center.
Come to booth 805
There's no denying the importance of technology in today's senior living landscape. Integrated, comprehensive solutions like the Yardi Senior Living Suite have the tools needed to unify operations, increase move-ins and enhance resident care.
But that's just the tip of the iceberg. Our single connected solution has undergone some powerful enhancements lately, and each improvement was built to power your communities like never before.
With that in mind, we invite you to meet team Yardi at booth 805 come Argentum 2022! We'll answer any questions you have, whether it be on the Senior Living Suite as a whole, or individual tools like RentCafe Senior CRM and Yardi EHR. We can't wait to show you what's new with each product — and demonstrate how everything connects on a single platform.
Want to get something on the books in advance? Schedule time to meet with us at Argentum.
Start exploring our single connected solution
Eager to learn more about Yardi before Argentum? Check out our newest infographic to see how our software evolves — with functionality like electronic signatures — to help operators succeed. We walk you through every step of our electronic leasing process, and offer testimonies from clients who are reaping the benefits.
Read the infographic. And if you start to form questions about our electronic leasing functionality, we'd be happy to answer them at the conference.
More on Argentum
The 2022 Argentum Senior Living Executive Conference is a great opportunity to discuss the latest policy developments, explore emerging issues and hear from experts who understand where the industry is heading.
You can learn all about the conference online. We're pleased to sponsor the registration this year, spreading the word for more senior living leaders to band together and explore solutions for the year ahead.
We look forward to seeing you at Argentum 2022! If you have any questions in the meantime, we encourage you to reach out.