Access + Affordability
By Erica Rascón on Nov 15, 2019 in Events, News
A league of Canada's brightest minds in real estate are tackling the nation's hottest topics, including the affordable housing shortage and renters' growing demands. The 2019 Canadian Apartment Investment Conference (CAIC) united multi-family and multi-residential professionals for a full day of transformative content. More than 1,000 attendees including owners, managers, developers, lenders and industry stakeholders gathered to discuss investment, development and operating opportunities across Canada.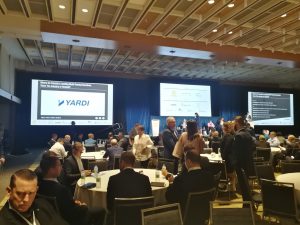 Tenant Preference Survey
The conference focused on Canada's strong multi-family market and how to meet tenants' demands. To understand those demands, Yardi sponsored the 4th Tenant Preference Survey Results. The survey provided an updated perspective on residents' preferences and the value of certain upgrades. Amy Erixon, head of global investment management at Avison Young-Investments (Canada), Inc. presented an analysis of the survey to the group.
While the rental market is still stable, it is taking young renters longer to look for housing that is both affordable and reasonably comfortable. Erixon encouraged attendees to focus on their ILS listings to reach your renters: prospects rely on ILS to discover new housing units, so they see property websites as secondary resource. Unlike US renters, Erixon added, Canadian prospects believe brand and customer reviews are differentiators during the apartment search. Brands with excellent reviews should place their identity towards the forefront of their online marketing, rather than as a note in the margins of their website.
Renters' demands affect property features as well. High mortgage rates prevent many families from achieving homeownership. As a result, most renters want units with two or more bedrooms to accommodate their growing families.
Such floorplans are also beneficial for subletting units, a route of supplemental income that makes rental housing more affordable. Erixon explained that apartments with short-term rental provisions are growing in popularity because they allow residents to earn income towards housing whenever they aren't using the unit. While this option is popular with younger renters, the survey revealed that older renters are uncomfortable with these accommodations.
Renters of all ages prefer the support of an onsite property manager and about 30 percent of survey respondents were willing to pay more for this service.
The report also revealed the following amenity preferences:
In-unit washers and dryers
Personal and guest parking (renters are willing to pay extra)
Keyless entry (41 percent of respondents are ok accessing their unit via AI technology)
Health-centred programming (desired even if renters don't intend to use it)
The survey helps multi-family firms create accurate benchmarking stats that can guide programming, renovation, new construction, and other investment decisions.  Contact Sara Segal to purchase the full report.
Tackling Affordability
"By far, the most desirable tenant preference is housing that they can afford," says John Fox, partner at Robin Appleby LLP. Conference attendees explored new policies and incentive programs designed to aid the expansion and management of affordable housing stock in session "Affordable Housing: A Canadian Wide Challenge to Solve."
Fox was accompanied by Thom Armstrong, executive director, Co-operative Housing Federation of BC; Heather Grey-Wolf, vice president, development, capital developments; and Tsering Yangki, vice president, debt, real estate finance, Dream Unlimited.
First, participants tackled the question, "What is affordability?" Ideally, housing offers a range of price brackets that would allow residents to spend one-third or less of their income on housing. But the market is forcing renters to pay more, especially in Vancouver and Toronto.
High rents aren't necessarily the result of price gouging, Fox explained. High construction costs trickled down to residents. To address the challenges of high construction fees and long development processes, Canada launched its first ever National Housing Strategy campaign in 2017 and Ontario launched the supply action plan earlier this year. Informed by years of research, the Canada Mortgage and Housing Corporation is using the 2019 budget to fund significant new measures to ensure that all Canadian families can find a quality, affordably priced housing.
The Ontario budget expands the Rental Construction Financing Initiative. Within the next decade, $10 billion will be allotted to construct 42,500 new affordable rental units across the country, Fox reports. An additional $300 million will support the Impact Canada's Housing Supply Challenge, which explores ways to break down barriers to affordable housing.
In British Columbia, for example, non-profit Community Land Trust has discovered an innovative way to address rising land costs. The organization acquires and holds land for the benefit of the broader community. Its major objective is to secure land for long-term, stable of affordable housing for locals.
Action + Optimism
Addressing tenant preferences and the growing demand for affordable housing will be an ongoing discussion among industry professionals. Yardi and CAIC will continue to serve as a springboard for discussion and an incubator for actionable plans. Join the conversation on LinkedIn.