ENERGY STAR Impact
By Joel Nelson on Dec 1, 2022 in Energy
A recent report from the U.S. Environmental Protection Agency traces 20 years of energy efficiency progress enabled by ENERGY STAR® and proposes a framework for achieving a zero-carbon economy.
ENERGY STAR originated in 1991 as part of the EPA's Climate Partnerships Programs initiative, which sought ways to reduce greenhouse gas emissions, promote carbon pollution-free electricity and achieve net-zero emissions targets. ENERGY STAR certifies businesses and consumer products that conform with energy-efficient solutions that protect the climate and public health.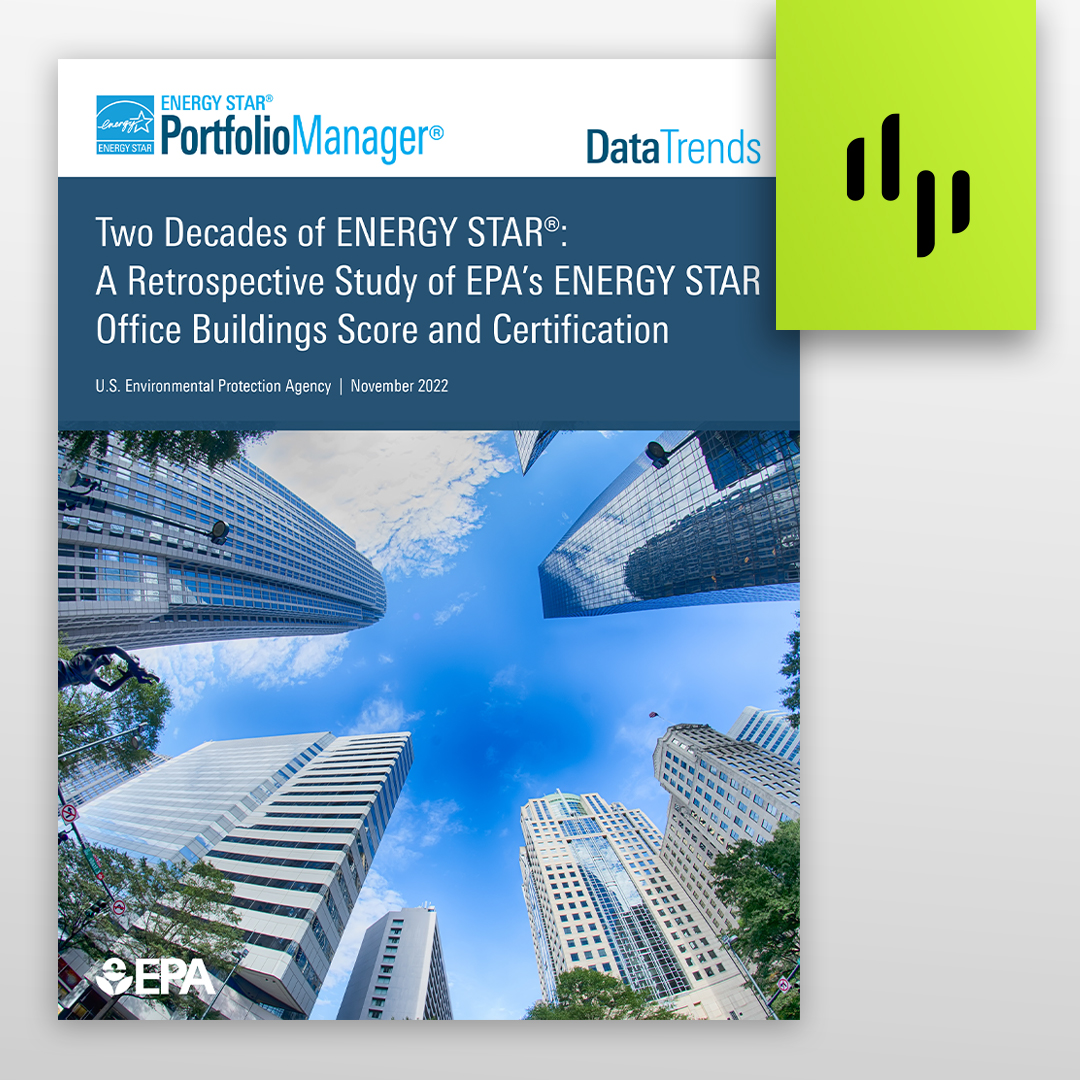 Documenting ENERGY STAR's impact
The EPA report notes that energy benchmarking enabled by ENERGY STAR® Portfolio Manager® has grown from 2,000 office buildings initially to more than 280,000 buildings encompassing over 27 billion square feet of space across 15 building types. More than 36,000 buildings – including the Yardi headquarters buildings in Santa Barbara, Calif. – have earned ENERGY STAR certification for excellence in energy performance.
Key findings in the new report, which includes survey findings from 2019, include:
ENERGY STAR-certified offices are 18 times larger than similar buildings, representing an opportunity to expand certification to smaller and mid-sized buildings. EPA incentives plus expanded state and local benchmarking, performance and disclosure mandates are expected to expand certification among smaller buildings
Almost 40% of ENERGY STAR office buildings are all-electric, up from 30% in 1999. The report notes that efficiency of fuel use, rather than the mix of fuels used, drives ENERGY STAR-level performance. Furthermore, efficiently using electricity to meet energy needs positions buildings to leverage onsite renewable systems
HVAC and lighting system upgrades are a priority, with 72% of ENERGY STAR buildings pursuing HVAC enhancements and 83% implementing lighting systems upgrades. Such upgrades were a priority for only about a third of the buildings reported in a 2012 survey
ENERGY STAR buildings deploy more sophisticated control technology for heating, cooling and lighting system controls than their peers.
Almost half of survey respondents rely solely on manual methods to collect energy meter and bill collection data; the remainder use automated collection and/or exporting from a building energy management system. Manual methods' "period nature, time lag and lack of granularity … limits its usefulness in finding and fixing energy waste in buildings," the report notes
"This last point shows that building owners and operators should take full advantage of the energy use data available to them. Yardi clients do that with advanced energy management software that makes energy data collection and management easy and produces real, quantifiable savings," says Joe Consolo, director of Yardi Energy. "Benefits of this approach encompass a multitude of business operations including retrofit decisions, investor satisfaction and regulatory compliance."
'Continued energy efficiency focus is critical'
With commercial buildings accounting for 17% of national CO2 emissions, "a continued focus on energy efficiency is critical to reducing this impact and to ensuring that the U.S. can meet the necessary growth in clean electricity to achieve its carbon goals," the report notes.
It continues, "Looking ahead, the next two decades call for an ever-increas­ing focus on deeper energy reductions and decarbonization. The U.S. goal of a zero-carbon economy by 2050 reinforces a continued need for simple performance evaluation of commercial buildings around a common language of baselining, tracking, and recognition of excellence shared by policy makers, building owners and operators and services providers alike."
Lean how Pulse Energy Benchmarking can help commercial building operators advance their business through ENERGY STAR certification.