5 Voyager Features
By Lee Ann Stiff on Jan 16, 2019 in News
If you're currently using Yardi Voyager as your property management platform, make sure you're taking advantage of all the great features designed to make your job easier — and help your organization meet its goals faster.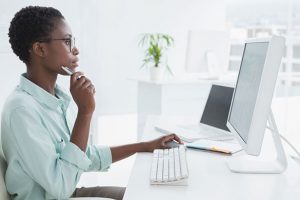 One of Yardi's own Voyager gurus, Amy Walston, shared some helpful tips about five Voyager features you might not be using, but probably should. To find out what they are and what they can do for you and your business, keep reading.
Amenity-based pricing
What it is: An amenity is an included, non-optional feature of a unit that increases or decreases its market value above or below the unit type rent. You can view units according to premiums that increase value such as cabinet upgrades or a desirable location.  An example of an amenity that decreases a unit's value is a view of a parking lot.
Benefits of using it: Pricing rental units only by number of bedrooms and bathrooms doesn't always deliver the best results since other factors affect desirability. Attracting the right tenant at the right price is key. This tool allows you to control individual unit pricing based on the features of each unit, and lets you easily change unit pricing by updating amenity values. This tool includes user-based security to allow or restrict updates to amenity values and unit pricing.
Leasing specials
What it is: Leasing specials are deals or offers that prospects can choose when they apply for units and that residents can select when they renew leases. Specials can be created to occur only once, such as a bonus for renewing a lease early, or they can repeat monthly, such as a rent discount for signing a 14-month lease.
Benefits of using it: To improve occupancy by converting more prospects and retaining good residents, leasing specials can by extremely helpful. You can use this tool at the management level to control concessions given and offer specials to prospects and residents leasing or renewing online. Concessions may be defined in advance with an expiration date to make it easier to manage what specials are offered at what time, according to your leasing and revenue goals.
Proposal-and-approval lease renewals
What it is: A lease proposal is a renewal option that a resident may select when their lease expires. You can use this tool to offer residents a proposal for each lease term offered at a property. Proposals must be approved by management in order for a resident to select them, and renewal proposals can be created and approved in batches for convenient bulk processing. You can offer proposals to residents via renewal letters or online through RentCafe.
Benefits of using it: Providing incentives for residents to easily renew their leases promotes maximum retention and satisfaction that supports your bottom line. This tool lets you quickly create renewal proposals for all residents with expiring leases, and the approval process provides insight and control at the management level. Through RentCafe, residents can review their lease renewal options online, select what works best for them and then initiate the renewal.
Make-ready board
What it is: The make-ready board is a Yardi Maintenance feature (built into Voyager) that tracks all the actions required to prepare a unit for the next resident to move in. You can associate these tasks with recurring work orders. When the required tasks are identified, they are added to the make-ready board on the community manager's dashboard for easy tracking and management.
Benefits of using it: Vacant units and a slow make-ready process, with no visibility into maintenance performance, will cost your organization time and money including lost leasing opportunities. This tool enables you to streamline and expedite the unit turn process by pre-defining work orders with all the required details to efficiently complete make-ready tasks. You get visibility into the turn process for every unit, and make-ready steps are automatically updated when your maintenance technicians use the Maintenance Mobile app — so you can get rid of that manually updated whiteboard in the leasing office.
Mortgage management
What it is: Organize, manage and report on mortgages held by third parties. This tool lets you perform tasks such as amortizing payments, scheduling payments, and posting payables through to the G/L. You can also view payment histories, make multiple escrow line-item payments, create and track interest rate tables and calculate mortgage projections.
Benefits of using it: It's hard to be efficient with managing third-party mortgages when the supporting data is spread across multiple locations. This tool lets you easily track and manage all mortgages in one central place in Voyager, process payments for multiple mortgages at one time and report on mortgages with included analytics.
For more info about any of these features, contact your Voyager client rep. Not yet a Voyager client? Sign up for a free webinar to see it in action.