NY Law's Impact
By Joel Nelson on Aug 17, 2020 in Matrix
Last year, New York state implemented new protections for residents of rent-stabilized and market-rate housing, including the conditions under which rent hikes and evictions are allowed. Affordable housing advocates saw the landmark Housing Stability and Tenant Protection Act of 2019 as vital to helping low-income people avoid homelessness in expensive markets such as New York City.
Skeptics predicted it would backfire and reduce incentives to develop, invest in and manage rental housing. The law has been under siege in the courts from landlord interests who claim it violates the Constitution's taking and due process provisions. One year into the new era, has either side been proven right?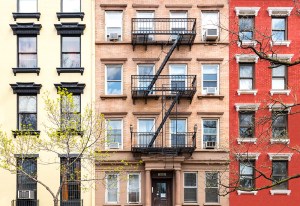 Obviously, a lot has changed in the New York rental market since the law was signed in June 2019. But in December of that year, before the COVID-19 pandemic took hold, the New York Times reported that evictions in the state dropped by 20% in the preceding six months. State and federal provisions put in place during COVID have further strengthened eviction protections for more than 1.5 million state residents not able to pay rent due to the pandemic.
In April and May, rents in New York City actually went up year over year. The Times reported in June that "those looking to sign or renew leases in the last few months say that while some landlords are grudgingly offering short-term concessions, like a free month of rent, most are unwilling to budge on pre-pandemic pricing and, in some cases, are even increasing rents."
And how about rent payments? Yardi Matrix data collected in July revealed rent declines ranging from 0.8% to 1.6% in Brooklyn, Manhattan and Queens that month, while occupancy levels in the metro have been flat for several months.
"With the vacancy rate where it is, people have opportunities for deals and lots of properties to look at," said Hal D. Gavzie, executive manager of leasing at Douglas Elliman Real Estate, as quoted in CNN.com in July. "The concessions are there, they will be there until we can eat through this inventory."
"As work-from-home orders remain for many city professionals, there's not a current need to live near the offices, or even to pick a pad for its easy commute. As a result, landlords looking to fill empty apartments are turning to rent reductions to lure new tenants to what was once the epicenter of the virus," according to a New York Post article in July.
It appears that COVID-19 has made it difficult to isolate the impact of the 2019 housing law on New York rents and inventory. That figures to be the case for some period of time as residents await resolution of an array of unknowns including the prospect of additional government economic stimuli, how long eviction moratoria will remain in place, limitations on international travel and success in slowing the pandemic's spread.
With in-person showings forbidden in many municipalities, realtors in New York and elsewhere are increasingly turning to online tools for property showings as well as applications, lease signings and payments. Learn about Yardi solutions that help property owners, residents, vendors and staff maintain social distancing.