And Action!
By Geneva Ives on Feb 5, 2021 in Marketing
As leasing technology and the customer journey has evolved, so has the role of the leasing agent. Also called leasing consultants or leasing specialists, these are the people who help walk prospects through the process of becoming residents … a path that's become increasingly virtual.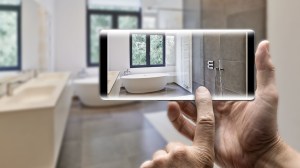 Even before the COVID-19 pandemic, renters were doing most of their apartment research online, often deciding which properties to tour based on apartment listing sites, review sites and branded social media accounts. Then, when social distancing measures became the norm, people started relying even more heavily on online content — including pre-recorded video tours and livestreams with leasing agents — to choose their next home.
In fact, a recent survey revealed that "renters are becoming so comfortable with renting digitally, that 72% say they would rent an apartment without ever seeing the property in person if a 3D virtual tour was offered."
What does this mean for you, the person responsible for leasing apartments? It means it's time to improve your video skills.
Here are some tips to help you get more comfortable behind the camera as well as in front of it. (Don't worry, no previous filmmaking experience is required.)
Filming
Want to shoot a video tour that converts? Even if you're just filming with your phone, considering these three things will set you up for success:
Video orientation — If you're trying to decide whether to shoot in portrait or landscape, ask where the video will be posted. Horizontal videos with a landscape orientation will usually look best on your website and YouTube. But you should hold your camera upright to take a video with a portrait orientation for Instagram Stories or a livestream with a prospect who is using their phone. Either format works well for Facebook, but apartments look more spacious when shot in landscape, so that's what we recommend.
Lighting — If you have a window in every room and great natural light, use it. If not, it's best to shoot early or late in the day, with every light on in the unit, so it looks bright and there's not too much contrast with the light outside.
Audio — Sound can be a tricky thing, especially if you're filming in a busy apartment building. Record using the microphone in your headphones or AirPods if you can, even though you might feel silly wearing them. You can always explain that it's for the customer's benefit. If you are tackling a larger project, you might want to buy an inexpensive microphone to improve sound quality.
Get more tips for staging virtual and self-guided tours.
Starring
There's no sense in being camera shy if you're a leasing agent. You're the face of the property as far as prospects are concerned. If you want renters to know, like and trust you, starring in your video tours is a good idea.
When filming a video with a person in it, whether that person is you or someone else, pay attention to:
Head room — Head room is the amount of space between the top of your head and the top of the video. If you have too much space above your head, it will make you look like you are shrinking. Too little and you risk cutting off the top of your head, which is unsettling for the viewer.
Facial expression — When you're trying to recite a list of property features and unit updates, it can be hard to think about what your face is doing. But it's important to avoid scowling and maintain a pleasant expression, especially for prospects you may not have connected with in person yet.
Editing
If you're creating pre-recorded video tours for your property website, Facebook page or other publicly accessible platform, some simple video editing can set you apart from the competition. Apps like iMovie (free for iOS devices) and Adobe Premiere Rush (this one works across platforms) allow you to edit footage directly on your phone.
Quick editing suggestions include:
Cropping — Make sure your video starts and ends exactly where you want it to.
Cutting — Edit out scenes where you flubbed your words or people walked through the shot.
Exposure — Brighten up footage that's too dark.
Graphics — Add your company or property logo or watermark.
Call to action — Add a closing screen with your contact information.
Posting
Now that you've shot and edited your video, you're ready to post it. This is the easy part, but there are still a few things you should pay attention to:
Metadata — Whether you're posting on your website, YouTube or a social channel, it's always a good idea to make sure your video has a descriptive filename like "MariposaVillage_UnitA_Chicago."
Captions — Include the name of the property and floor plan, then describe some of the features shown in the video. Remember that some viewers may not turn on audio. What do you want them to know?
Hashtags — If your video will be shared on social media, do some hashtag research to make sure you are targeting the right ones for your audience. Are there local hashtags you could use? What are your competitors tagging? It's a good idea to include 3-10 hashtags per post, depending on the platform.
Going live
If you're going live — whether on social or via FaceTime or Zoom for a livestream unit tour — the same filming and starring principles apply, without the benefit of editing. Just remember that there are some great things about broadcasting in the moment. For example, you'll be able to answer your customers' questions immediately, getting them one step closer to picking the right place to call home.
What else should leasing consultants do to be successful?
Watch this episode from Moments of Genius with Drew Davis to learn how you can increase your value with three skills leasing agents will be expected to master going forward.