Smart SMS Marketing
By Nik Edlinger on Jan 30, 2020 in Marketing, Technology
You know how the stereotype goes.
"Older people don't use technology."
"Smartphones are too complicated for seniors."
"A flyer or a phone call is the only option."
Reality, as it turns out, begs to differ.
According to an AARP survey, over 90 percent of older adults use technology to stay connected. And among those surveyed, text messaging has overtaken email as the method of choice for communication — 86% say they regularly text with friends and family.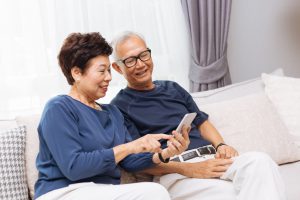 Clearly, today's seniors are on board the technology bandwagon. The question now is, are your senior living sales counselors on board as well?
SMS text messaging for senior living marketing is not new, but it's quickly growing in prominence as more and more providers recognize its effectiveness. Text messages have open rates as high as 98%, while emails hover around 20%. If you're not texting your prospective residents, you're missing real opportunities to connect.
But before you dive in and start sending texts left and right, take note. There are laws in place that regulate what's allowed, and some property management businesses have already landed themselves in hot water.
What's the law on SMS text messaging for marketing?
The Telephone Consumer Protection Act protects people from unwanted communications from any business. That means service providers must receive prior express written consent before cold calling or texting. And they can't make agreeing to receive these marketing messages a condition for moving in or otherwise purchasing services.
So how do you stay on the right side of the law? How do you ensure you've gotten permission from your senior living prospects to send them marketing texts?
SMS text messaging in Yardi Senior CRM
Yardi Senior CRM helps senior living providers manage their entire sales and marketing process — including text messaging. Once enabled, the text messaging feature allows staff to track SMS-based leads, view messages and reply back right from their computer.
To ensure that prior consent is obtained, Senior CRM uses a voluntary opt-in where prospects must text the community first. Senior CRM responds with a message asking prospects to confirm they would like to receive texts, making sure they directly grant permission. Once they do, the sales counselor or marketer is free to text about open units, promotional offers and upcoming events.
One of the simplest ways to start these conversations through text is to make it obvious on your site that prospects can text you for more information. They don't have to call or fill out a form first. Instead, you're immediately communicating in the channel they prefer most.
Senior CRM even allows staff to create templates to speed up responses. These can be set to automatically trigger based off a certain conditions (e.g., outside of business hours, includes the word "tour"), or they can be used to jumpstart a personalized message with database tokens that instantly pull in things like the current rate price for a unit.
Tips for what to text
People of all ages love to text, but there are some generational differences in what they write — and what they prefer to see. Statistically significant differences at that.
A couple years back, researchers studied preferences for text message content among different age groups. They looked at things like grammar, length, positivity and point of view. What they discovered may not surprise you too much, but it's sure to help when you begin texting your prospects.
For older adults, here's what the research said about how texts should be written:
Use correct grammar
Avoid shortening words (e.g., how r u?)
Ditch the multiple exclamation points (e.g., ! vs. !!!)
Leave out the emojis or emoticons
Talk to them directly using "you" language vs. "we" or "us"
Getting started with text messaging for senior living
To enable SMS text messaging in Senior CRM, you'll first need to get RENTCafé Senior Living and Connect so that we can set your community up with a dedicated business phone number. Already a Senior CRM client? Reach out to your account manager to learn more about implementing RENTCafé.
Not yet with Yardi? Contact us to schedule a personal demo. We can walk you through how our marketing suite for senior living can help you seamlessly communicate with prospects and grow your occupancy.