Renter Preferences
By Geneva Ives on Mar 21, 2016 in Marketing
The results from the NMHC/Kingsley 2015 Renter Preferences Study are in! This nationwide report reflects the sentiments discovered in a survey of more than 119, 266 residents at 3,280 communities. Keep reading to learn what today's residents expect from the rental experience. Once you know what your renters want, you can use that information to increase your retention rate, reduce turnover, and bolster referrals.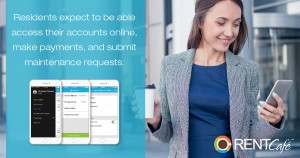 Four best practices to retain residents based on NMHC/Kingsley survey findings:
1. Optimize your online presence.
80% of respondents visited the community website during their apartment search
Attracting a prospect to your community is the first step in getting residents that you want to keep – and this starts online. Click here for some tips and tricks to ensure you are creating winning websites to turn your online presence into a property tour!
2. Offer online applications and lease renewals.
85% of respondents want to complete lease applications on a community's website
68% of respondents want to complete a lease agreement on a community's website
41% of respondents prefer to renew online, without contacting a leasing associate
Residents increasingly demand faster, streamlined, and more efficient ways of completing the application process. Give them what they want: an online application and renewal process.
3. Make maintenance requests and online rent payments easy.
93% of respondents consider online maintenance requests an important resident portal feature
92% of respondents consider online rent payment an important resident portal feature
78% of respondents prefer paying rent electronically
It's simple – your residents are busy people! They need smarter solutions and options when it comes to paying rent and managing their homes. In addition to the statistics above, did you know that over 74% consider mobile access a key resident portal feature?>
4. Engage on social media.
42% of respondents said they would follow their community's Facebook page
36% of respondents visit the community social media pages during their apartment search
It's time to get engaged! Update your social media pages with current contact information, high-quality images, and community events. Be sure to have at least one designated staff member monitoring your channels to answer prospect and resident questions.
How Yardi can help
The marketing and leasing solutions offered by the Yardi Marketing Suite can help you provide residents with what they really want. Use RentCafe to build impressive property marketing websites, offer resident portals with online rent payments and maintenance requests, communicate electronically with your residents, and manage your social media presence across all properties from a single platform. RentCafe CRM will help you manage online leads and leases more efficiently, and RENTCafé Connect will make sure you never miss an important resident communication via phone, chat, or email.
Why does resident happiness matter?
Keeping your residents happy by giving them what they want works wonders for both renewals and property marketing. (Within reason of course. You will notice that this survey didn't include anything about bouncy castles or chocolate fountains.) You will not only retain more residents but also create resident ambassadors for your property who will recommend it to their friends, family, and social media contacts. And that kind of word of mouth advertising is money in the bank!
For more tips on how to cultivate happy residents, join us and host Rommel Anacan on March 23 for "How NOT to Lose a Resident in 12 Months!" Yardi is a proud sponsor of Webinar Wednesdays, a series of bi-monthly, multifamily webinars brought to you by Apartment All Stars, NAA, and Multifamily Insiders.