Optimize Your Profile
By Elle Schantz on Jan 30, 2023 in Marketing
You've probably heard the saying, "You never get a second chance to make a good first impression."
Think of your Google Business Profile (GBP) as your business' digital first impression; it's critical to put your best foot forward to attract the most traffic to your apartment community. In fact, did you know that 50% of GBP interactions lead to a website visit?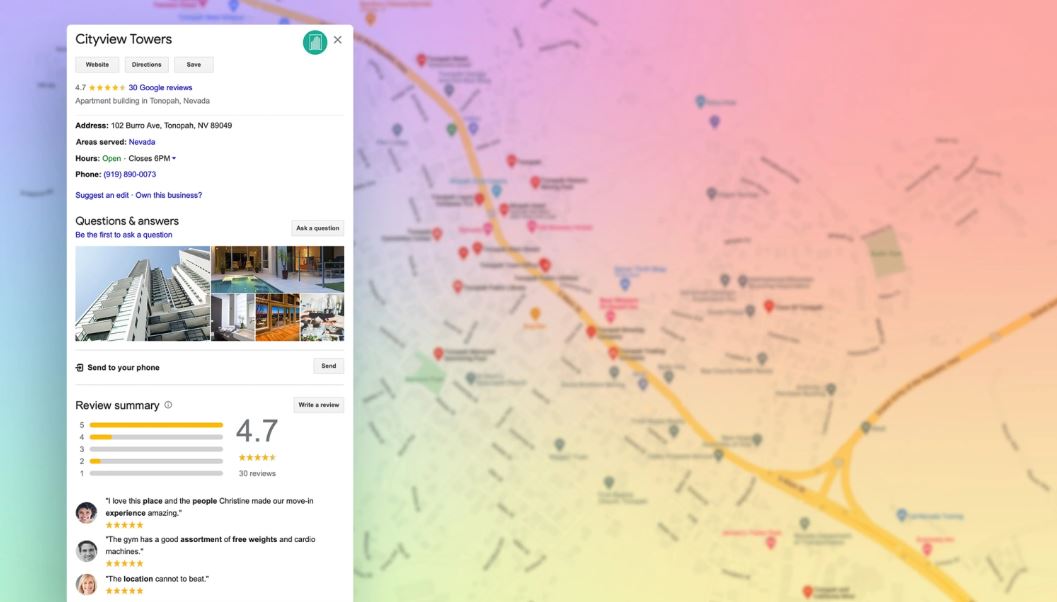 Your GBP is a description of your business that appears above or to the side of the organic results in Google search, and it includes key information about your business such as your name, number, hours of operation and more.
The goal of your GBP is to display an overview of the business Google thinks a user is searching for, and it actually plays a key role in your SEO strategy. Let's dig into why your GBP is so important and how to make yours the best it can be.
Why is your Google Business Profile important?
Google is the leading search engine in the U.S., commanding a 92% market share. With this in mind, it's important to be visible where the bulk of users are searching.
Your GBP helps you stand out from the crowd and boosts property visibility. An accurate and up-to-date profile allows you to appear above organic search results, showcasing your business and all it offers in a clear and affective way.
Your GBP is a great opportunity to take up critical real estate on the SERPs. A complete GBP also greatly increases your odds of appearing in the Google Local Map Pack. This set of featured results lists businesses in the searcher's local area. If you're included, it will definitely drive traffic to your website.
Building an optimized Google Business Profile for apartments
Since 64% of users find business contact information on GBP, it's more important than ever to have a fully completed and error-free profile. It is one of the best ways to market your business online, and best of all, setting up your GBP is free!
To get started, claim your business if Google has already set one up. To do this, search for your business on Google and click "Claim this business" if a GBP populates on the Search Engine Results Page. If it doesn't exist yet you also have the opportunity to create a new one.
Next, you should select the business category that applies to your business. For example, you can select "Apartment complex."
After this, you should add your business information. This includes name, address, phone number and URL. To top it off, don't forget to add in your hours of operation and a brief description of your business.
Finally, make sure to verify your business location by phone, text, email or via postcard sent to your physical address.
GBP best practices
Setting up your GBP is a good start, but you can't just set it and forget it. Here are some best practices to follow to make sure you're making the most of what a Google Business Profile for apartments can offer:
Consistently check and update
It's important to check your GBP as often as possible. When talking about GBPs, Gretchen Walker, manager at REACH by RentCafe,comments, "It's important to keep it up to date. Google allows users to come in and suggest changes to those profiles, and … just because it's correct today doesn't mean it's going to be correct tomorrow." If your name, address, phone number and URL are not consistent with other listings that feature your website, it can hurt your optimization.
Respond to your reviews
Managing your online reputation is an important part of your digital marketing strategy. Responding to reviews on your GBP is a great way to engage with clients while boosting your SEO. For more information on how to best respond to reviews, check out this article.
Boost engagement by adding photos and videos
Business profiles that add and regularly update photos see 35% more clicks through to their websites and 42% more requests for directions. Need we say more?
Boosting your online presence with REACH
REACH by RentCafe offers comprehensive SEO services for your property management websites. These include GBP management. Our agency experts are pros at optimizing Google Business Profiles for apartments. Partnering with a digital marketing agency like REACH can help you save time and drive traffic by ensuring your GBP is constantly monitored. To learn more about Google Business Profile management and other ongoing SEO requirements, check out this brochure.