Get More Tours
By Geneva Ives on May 30, 2020 in Marketing
Recent world events surrounding COVID-19 have led us all to adopt new consumer behaviors, and it's likely that many of these behaviors will stick. With that in mind, it might be time for us to revisit our approach to apartment tours.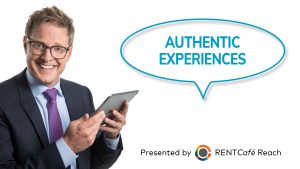 Did you know that 80% of renters seriously considered just four or fewer properties during their last apartment search, according to the  2020 NMHC/Kingsley Apartment Resident Preferences Report? And 38% of renters only toured one or two communities before making their rental decision. That number is likely to grow now that we've all grown accustomed to doing more online.
So how do you get your property on renters' short list — especially now that they're more likely to be influenced by online content than in-person experiences — and secure more tours?
Keep reading for three data-driven tips for getting more property tours, whether virtual, self-guided or led by an agent. Then, watch a video from our "Moments of Genius with Drew Davis" series to learn how you can create a better virtual experience to attract renters who are actively searching for apartments.
Provide unit-level photos & details
Renters in the same survey were asked, "What would you need to see online to rent an apartment without seeing it in person?" The top three answers were:
83% said unit photos
64% said community/amenity photos
64% said unit location within the community
That's right. Just like other online purchases, your prospects want to see exactly what they're getting for their money. To get them to tour (or lease online, sight unseen), you need to make sure that your property website is attractive, user friendly and full of pictures, including an accurate property map.
Unit-level photos and video tours create an experience that not only shows the unit but also builds a foundation of trust for your brand and leasing associates. Additionally, property maps with unit-specific locations help prospects envision life in their new home on your property. Are they close to the pool? Do they have a sunset view? The more supporting material you can provide, the quicker prospects will be able to mentally move-in.
"Did you know that roughly 60% of searches are mobile? That means a lot of web visitors are viewing your site on their phones," said Catriona Orosco, director for RENTCafé Reach. "Be sure to include vertical photos as well as horizontal ones to give them a better viewing experience."
Add online appointment scheduling & tour options
80% of renters said they would use online appointment scheduling in their next apartment search. Online appointment scheduling accommodates busy renters who don't have time or simply don't want to call during office hours. After all, consumers are used to booking everything from restaurant reservations to DMV appointments online.
Data shows that self-scheduled appointments convert at a high rate. In fact, QuadReal, a RENTCafé client, found that 33% of its self-made appointments converted to leases.
Additionally, another 59% of surveyed renters said they wanted self-navigated virtual tours, and 26% wanted real-time video tours done through FaceTime or a similar service. Adding these options to your website or as part of your leasing agent follow-ups will help you meet the needs of a greater range of renters.
Offer self-guided tours
Of the 370,000 survey participants in the NMHC study, 16% of renters said they would prefer a self-guided tour, while another 15% indicated no preference between self-guided or community-staffed tours. That's almost 115,000 prospects who would happily tour your property unguided, expanding your tour offerings and giving your staff more time to assist guests and residents with urgent needs. And that study happened pre-pandemic.
A more recent survey of 4,974 apartment shoppers on RentCafe.com revealed that 70% would take a self-guided tour now.
Why do some prospects prefer self-guided tours? Their responses were almost equally divided between these four reasons:
It's more convenient for their schedule (to book tours outside of office hours)
They can tour at their own pace
They want to be able to freely discuss with their partner/roommate
They don't want to be "sold" by a community representative
How you choose to implement self-guided tours might differ depending on your market and the technology available to you. In some cases, you may feel safe having a lockbox on a show unit and limiting tours to office hours. In others, you may want to create a "smart" show unit that allows you to verify a guest's identity, adjust temperature and lighting, and issue a security code that's valid for a set time range. Sign up for a free self-guided tour webinar to learn more about new options available through RENTCafé Reach.
Done right, self-guided tours can be a boon to property leasing efforts. "It creates a great closing opportunity for when the prospect returns to the leasing office if the tour was conducted during office hours, or for a follow-up phone call or video meeting if the tour was taken after hours," said Ester Bonardi, vice president of marketing at Yardi.
Make the virtual experience more exciting
It may seem surprising given the COVID-19 pandemic, but apartment search traffic is on the rise. In fact, traffic surpassed pre-crisis levels on RentCafe.com last month, and 62% of renters say they are moving as soon as they find an apartment.
So how do you win over renters when social distancing is the new norm and your leasing office interactions are limited?
We're here to help you do that by sharing the second episode of our "Moment of Genius with Drew Davis" series, presented by RENTCafé Reach. Watch this short video to learn three things you can do to make the virtual experience more exciting. Learn how you can attract prospects and convert leads in this new, contactless (and increasingly competitive) market.
Episode 2: Authentic Virtual Tours with Drew Davis – YouTubewww.youtube.com
Drew is an award-winning speaker and marketing expert who is collaborating with us to share monthly tips specific to property management. Subscribe to "Moments of Genius" now to see new episodes when they're released.