Creating Community
By Geneva Ives on Apr 29, 2020 in Marketing
Traditionally, creating a sense of community has been a great way to make residents feel at home, leading to positive reviews, referrals and increased renewals. Multifamily properties host happy hours, movie nights and exercise classes to help renters connect with each other and the property team. They create and update shared spaces and amenities to make sure they are comfortable and welcoming.
But how do you create a sense of community when people can't gather?
Property managers everywhere are asking this question now because of the social distancing measures put in place during the COVID-19 pandemic.
We're here to help.
First, watch a video from our new "Moments of Genius with Drew Davis" series to get creative community building tips you can use right now. Then, see what the award-winning team at Bozzuto is doing. And finally, discover tech tools that can help bring your residents and team members together.
6 Creative Ideas
Watch this short, five-minute video from Drew Davis to learn six creative ways and four key principles to foster community at your properties — even when we can't all be in the same place. Drew is one of the world's top marketing experts. He is working closely with us to share monthly tips specific to property management as we navigate this rapidly changing market together.
Wasn't that fun and inspiring? Drew is just the shot of positive energy we need right now, and we're excited to see what he has in store for us. Subscribe to "Moments of Genius" now to see new episodes when they're released.
#BozzutoStaysHome
When stay-at-home orders started getting handed down, the team at Bozzuto knew they had to spring into action. "We asked ourselves, 'How do we continue to provide value to our residents when they can't use the amenities?'" said Nicole Wells, content marketing manager for digital marketing and strategy at Bozzuto.
#BozzutoStaysHome was the result, an online program that connects residents, includes the community and celebrates the idea of sanctuary, ultimately promoting shelter-in-place behaviors to flatten the curve. It includes a calendar of weekly virtual events led by community partners like yoga classes and cooking demonstrations as well as curated playlists designed to lift spirits and nurture a sense of connection. Events are shared live on Facebook and Instagram. Facebook Live events like this Vinyasa yoga class are recorded and shared so anyone can watch anytime, racking up hundreds of views.
"To get started, we put together a cross-team task force. We asked our residents what they wanted to see," shared Wells. Once the concept started coming together, "We created assets for our communities to use so they don't have to do that extra work themselves. They already have enough to focus on right now."
With more than 400 posts using the hashtag on Instagram in just a few weeks and hundreds of viewers to their live and recorded events, #BozzutoStaysHome is picking up traction. "Bozzuto is helping residents engage in a little bit of fun at home during quarantine," said Wells. "They're receptive to that, and we're happy to be a bright spot."
Tech That Connects
People can't participate in your community engagement efforts if they don't know about them. In the words of Drew Davis, "Make sure your residents know where to go for the latest information about your property and the fun things you're doing to keep people safe and connected."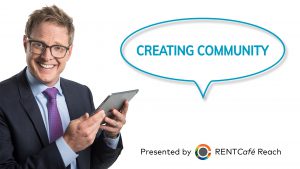 With the RENTCafé resident portal and RENTCafé Resident app, you can quickly and easily share information about social distancing efforts and upcoming online events. You can post events to your community calendar and bulletin board, send survey emails and even schedule push notifications if your residents have opted in on the app.
Both the portal and the app help your team stay connected while cutting down on face-to-face interactions by taking communications, payments and work orders online. With a 4.8 star rating and more than 150,000 reviews in the App Store, the RENTCafé Resident app is worth sharing with your renters. No other app provider offers residents more functionality. You can also get a version that's branded to match your community or company.
Temporary Effort, Lasting Impact
Although rapidly pivoting your resident retention and marketing efforts may seem disruptive now, you'll continue to experience the positive effects of building your community online long after social distancing guidelines have been lifted.
Helping your residents feel connected online during a time of isolation will lead to referrals and positive reviews in the same way that in-person events usually will do. In addition, you might get the opportunity to interact with renters who are normally too busy or too offsite to engage.
In fact, you may find that you want to keep some of your new programs in place, even when the pandemic passes. The challenges many of us are experiencing in quarantine won't instantly go away when lockdown orders are lifted. Whether suffering from an illness, working unusual hours, struggling with the stress of parenting or something else, we all have moments of isolation. Keep finding new ways to reach out and connect with your residents.