5 Happy Moments
By Geneva Ives on Aug 14, 2020 in Marketing
Want better ratings and reviews for your properties? Take the advice of award-winning marketing expert Drew Davis and create moments of inspiration (MOI) for your renters. "If we want better ROI, we need to focus on MOI," said Davis. "Meaningful micromoments define your experience, differentiate your service and truly build your brand."
In episode 5 of Moments of Genius, he tells property teams to ask themselves, "When is our afterparty glow moment?" Put another way, when are your residents most likely to be happy about the place they call home? Because that's the perfect time to ask for a positive property review.
If you haven't seen the episode yet, watch it now. Then keep reading to discover five ideal times to ask residents to share a review — as well as a few surprising moments when you should put the request on hold.
Picking up the keys
In most cases, few things are more exciting than picking up the keys to a new apartment. It's a fresh start, a new opportunity to create the home of your dreams. Amplify that feeling by giving your new renter a welcome gift and asking if they want their picture taken holding the keys. Follow up the next day to make sure everything in their apartment is working as expected and then, after they've settled in, ask for a review of their move-in experience.
Getting an appliance fixed
You know what's not fun? Having a broken appliance. But do you know what's amazing? When that broken washer, oven or garbage disposal is working again! If your maintenance team is doing an awesome job of following-up on maintenance requests (especially right now, with people spending more time at home due to the coronavirus pandemic), be sure to ask for a review after the work has been done. Bonus points if you send them a photo of happy photo of the person posing in front of the repaired appliance. Just make sure they're happy with it first and not still waiting on a part.
Sprucing up landscaping
Everyone loves a good makeover story, even your residents. If you do something nice to update your community, add a review link in the announcement you send to your residents. Just make sure the announcement makes it clear that you did the refresh to make their home nicer, not because you're hoping for some good reviews.
Enjoying amenities
There are a few times renters might experience an afterparty glow moment after using an amenity. For example, if they reserved your clubhouse or barbecue space for a private party you can follow-up after the event asking if everything met their expectations. Or, if you've recently reopened certain amenities after a period of closure, like the pool or gym, you can leave a sign or flyer by the door requesting feedback.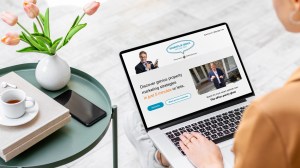 Attending resident events
After an event, send an email to thank the residents that participated. Ask what they enjoyed and if they have suggestions for future events. Then, you guessed it, include a link to leave a review. The most important thing is that you do this immediately after the event, when the fun they had is still fresh in their minds, instead of waiting a week before reaching out.
But don't ask when a resident …
… is having a hard time paying rent and has reached out for accommodation
… has requested upgrades to their unit
… has asked for lease adjustments like adding a roommate or a pet
No matter how you responded to these requests, it could seem like you are asking for a favor in exchange. That puts the resident in an uncomfortable situation. It's always a smart idea to check the status of a renters' account before making an ask.
Using tech to help
Soliciting and responding to reviews manually can be time consuming when you manage more than one community. But it doesn't have to be. With timed and triggered actions available in RENTCafé CRM Flex, you can set up an email to automatically send after a designated moment — like a completed maintenance request — for effective and efficient follow up. You can also use the reputation management tools in RENTCafé Reach to track and respond to reviews. There are self-service and full-service options to meet your needs.
No matter how you choose to approach reviews, the only bad idea is to ignore them completely. A strong majority of renters (85%) said ratings and reviews influenced their leasing decision in the 2020 NMHC/Kingsley Apartment Resident Preferences Report. If you don't take control of your reviews, you risk losing prospects to the competition. It's time to take control of your online reputation.
Join a webinar to see how Yardi technology can support a healthy review strategy.