Transparent Data
By Yardi Blog Staff on Nov 24, 2021 in Global
How will transparent data revolutionise real estate?
This was the underlying question for Ben Robinson, CEO of Raffles Quay Asset Management in Singapore, when he sat down with Yardi's Bernie Devine recently for the latest instalment of Yardi Proptech Insights.
Ben oversees the largest integrated mixed-use development at Singapore's Marina Bay. In real estate terms, One Raffles Quay and Marina Bay Financial Centre constitute 4.5 million square feet of prime Grade A office and 179,000 square feet retail space. In human terms, the precinct is usually the workplace of 26,000 people.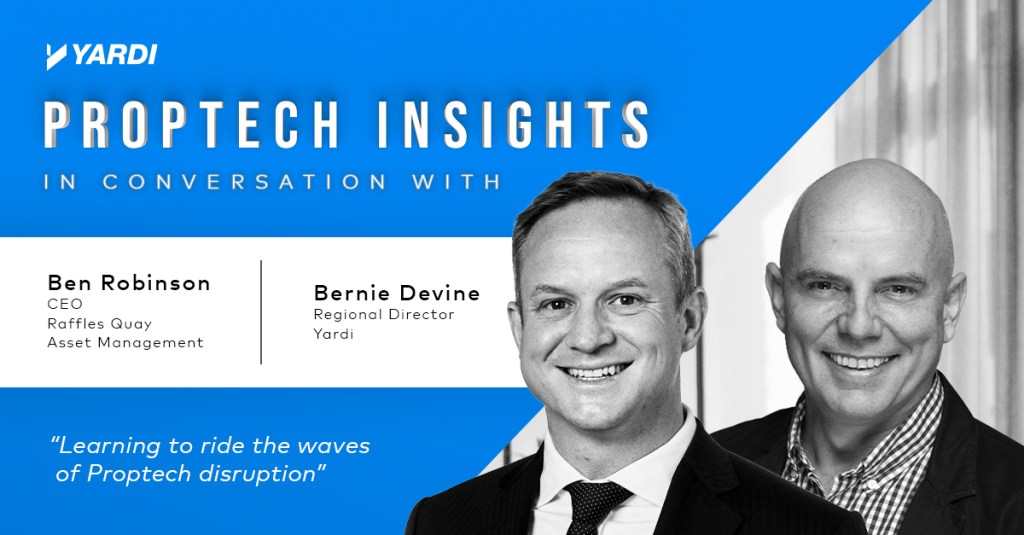 Four years ago, RQAM realised digital technology was the key to engaging with this 26,000-plus workforce. "We had no brand with the individuals who worked in our precinct, and we needed to communicate with them directly. That's where we started our digital transformation," Robinson says.
By the Bay was launched in 2019. More than a tenant app, By the Bay is also a booking system for RQAM's BaySpace flexible workplace solution. It is a connector that gives people access to BayFit exercise classes and education. It is a platform to support BayDine and the array of food and beverage options, rewards and discounts at Marina Bay. And it puts BayGreen, with information and ideas to live and work more sustainably, into the palm of people's hands.
Fast forward to 2021. With just 15% of people at their desks each day, due to work-from-home orders, By the Bay has proved an invaluable tenant engagement tool. Among the current benefits are mindfulness classes, a national steps challenge, complimentary gym passes and health assessments, as well as dining vouchers and exclusive perks. "We've got a great playground at our disposal," Robinson noted.
By the Bay supports RQAM's vision to deliver "premium" hospitality experiences, Ben added. By the Bay's digital access controls, for example, not only allow occupants to enter and exit their building safely in a few smart phone clicks. People can also invite guests into the space, which means concierge can "come out from behind the desk and act as experience ambassadors" rather than "taking numbers and handing out cards."
By the Bay's anonymised data, complemented by data from building information systems, is stored in a data lake dubbed BayWatch. The data lake will take time to fill, Ben said. Understanding future trends is dependent on a solid history of past data. But with the right tools, we can "forecast the future of space – and this is something we haven't been able to do before," Devine added.
Devine, who is responsible for Yardi's growth in Asia, said the pandemic had forced a rethink of how people use space right across the region. Real estate organisations now realise they aren't space providers – they are service providers, he said. "I'm seeing base rent as a percentage of total revenue getting smaller – not because base rent is going down but because the proportion of value add is increasing."
"But that brings complexity" and demands more sophisticated back-end systems. Yardi is on a journey of "connecting the property to the business," Devine added. In June, Yardi acquired UK-based Forge Bluepoint, a cloud-based visitor management solution that connect turnstile, elevator and parking data to other Yardi platforms, like its all-in-one co-working management system, Kube.
While RQAM expects some "rationalisation," Robinson does not predict a "significant" drop in space requirements. Tenants will be looking for more room for collaboration and projects, for example, and will need more overflow space on peak days of the week. This is where BaySpace can step in.
BaySpace is more than a flexible workspace offering. It is an "enterprise solution" that can support tenants with everything from fully-designed and fitted space to financing, Robinson noted. RQAM's analytics capabilities already provide rich insights into this flexible workspace offering and "forward indicators of growth and contraction requirements are going to be very powerful."
Robinson suggests starting with "quick and dirty experiments" to uncover indicators of where value really lies. "Break down the different personas of your portfolio – both individuals and corporate tenants – to understand their needs and develop solutions to address those needs.
"We are constantly experimenting," Robinson added. RQAM continues to build businesses cases for new functions on By the Bay – "and we are testing those business cases every day".
Rolling building data "up into a single view" will provide deeper insights into portfolio performance and the health assets, Devine added. But most importantly, "that information allows you to create a better experience."
Watch the webinar recording here.