Simple, Streamlined Procurement
By Erica Rascón on Nov 19, 2020 in Global, Technology
Efficient, automated procurement and single-point supplier management are within reach. Through Yardi Marketplace, HD Supply Canada offers tools of the trade for multifamily, hospitality and healthcare property managers. It is a collaboration that empowers clients to work with greater simplicity, efficiency and savings.
For Munawar Quraishi, general manager for HD Supply Canada Inc., teaming up with Yardi was a merging of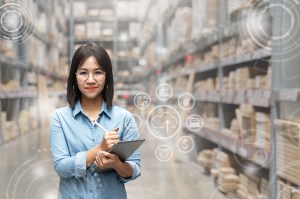 interests. Both organizations emphasize caring for employees, clients and the community.
Quraishi says, "Improving our people's lives is at the core of everything we do. We know that having engaged, successful people within our business will drive the success of the organization." He continues, "We look at the right balance of people, profit and processes."
To enhance its processes, HD Supply Canada sought a collaborator with similar perspectives on innovative technology. Together, Yardi and HD Supply Canada aim to advance the future of maintenance, repair and operations (MRO) buying and distribution.
HD Supply, Canadian market leaders
HD Supply Canada is the leading supplier of MRO products for multifamily living, hotels and long-term retirement care in the nation. Its pick, pack and distribute business model offers next day shipment. Product availability constantly grows: currently, HD Supply Canada offers 14,000 SKUs. Within the next several years, the goal is to get over 100,000. The process includes consulting subject matter experts on new products so that clients can rest assured they're getting high quality and value.
"Our sales team engages with vendors and peers to research and give our customers the best solution," says Quraishi.
Getting quality products into the hands of clients has involved process innovation at HD Supply Canada. The supplier was determined to implement digital solutions that streamline processes for its staff and its clients.
HD Supply Canada + Yardi Marketplace add value for clients
"Yardi Marketplace helps us act as solution providers for our customers, not just transaction executors. Having one platform for orders, payment and analytics will give our customers a previously unattained degree of visibility and help improve their productivity," explains Quraishi.
Previous transactions occurred via fax, email, phone and website. This approach resulted in unnecessary time delays and errors. "Yardi's integration takes away the ambiguity of purchase order development before it gets to us, whether that's a price change, error or issue with the print catalogues," says Quraishi.
An online marketplace also allows property technicians to maximize their time by using a mobile-ready service to place orders while they're in the field. Clients note that site-level productivity has improved once operating on Marketplace.
Additionally, HD Supply Canada conducts enterprise resource planning (ERP) through Marketplace. This allows the customer to make better decisions around budget and pricing. "This technology was a big play for us: it allowed property owners to understand how they're spending dollars, especially in a time like today with COVID-19 where budgets and working capital become more important," Quraishi says. "Such budget and capital insights allow clients better visibility than they had in the past."
Pouring (not trickling) the savings to clients
Improved efficiencies within HD Supply Canada have a resounding impact on clients. HD Supply Canada reports that Yardi Marketplace has facilitated fewer price discrepancies, fewer errors with purchase orders and better visibility into approvals and budgeting. The organization now picks, packs and ships without completing the approval process via disparate systems and methods. The streamlined approach expedites business at multiple levels.
The future of technology in MRO buying + distribution
 Quraishi and his team collaborate with technology companies like Yardi to usher the distribution industry into the future.
"We believe technology is the solution to help us grow and we will grow with it," says Quraishi. "Our investment in technology allows us to enhance the customer experience. We believe our system will pull information quickly and provide superior data to our clients. Those resources will help customers understand what they are buying, standardize those purchases and realize cost savings in the process."
Learn how you can leverage paperless processing, automated procurement and standardized supply purchases across your organization.