Parade of Playhouses
By Leah Etling on Jul 25, 2019 in Giving
Each summer for the last 24 years, a special event benefiting a great cause sets up shop at the NorthPark Center shopping mall in Dallas. It's the Parade of Playhouses benefitting Dallas Court Appointed Special Advocates (CASA), and it raises much-needed funds for this important non-profit organization.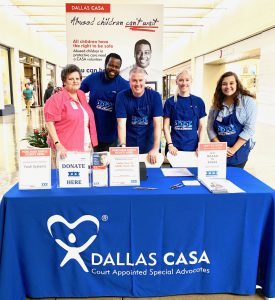 CASA supports abused and neglected children in the Dallas area in 1979. The nationwide organization helps children in need gain safe, permanent homes. Last year, 1,300 CASA volunteers helped 3,100 Dallas kids. Their efforts are made possible by year-round fundraising and donations.
For the Parade of Playhouses, Dallas architects, builders, businesses and individuals donate time, design and supplies to construct tiny houses, which are unique, creative, and might make a grown-up wish they could go back in time. Each is on a 10×12 foundation footprint. Some are modern and artistic, others whimsical, all just cool.
Who wouldn't love a backyard escape with a rock-climbing wall on the outside? Or how about a replica tiny travel trailer for summer backyard campouts? Families purchase raffle tickets for $5 each and enter to win the playhouse of their choice. CASA benefits from the funds raised, and a handful of lucky donors end up with a very special addition to their backyards.
"My daughter is 11, and every year she loves to look at all the playhouses to decide which raffle we're going to enter. When we don't win, she wants Daddy to try to build it for her," said Michael Sheaffer, senior director of client services in Yardi's Dallas office.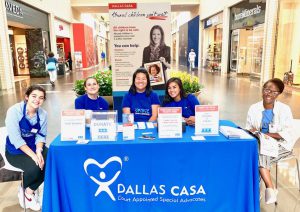 This year, Yardi employees played an important role in helping the fundraiser run smoothly by donating time to volunteer at the 17-day event. A total of 30 employees from the Dallas office were able to make time to help CASA, one of the non-profits that Yardi Dallas selected to support with both a financial donation and volunteer assistance this year.
The charity came to the attention of Yardi Dallas because it fit a key priority for their donated time and dollars: helping children affected by poverty. Yardi employees in each office collaborate on annual community contributions and volunteerism efforts.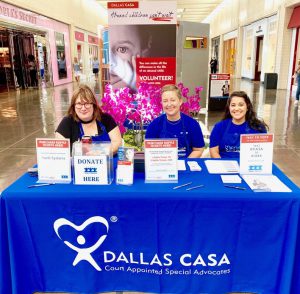 "Our priority in Dallas has been to address what we perceive as the most immediate issues in our area, which are poverty and hunger. The ramifications of those issues include homelessness, drug use, and children in need of help," Sheaffer said. "Volunteering to help out with the Parade of Playhouses was a very positive experience. CASA is well organized, able to take advantage of our capabilities, and always appreciative of our assistance."
Other non-profits receiving aid from the Yardi Dallas office are City Square, which supports children who are aging out of the CASA program with finding homes and jobs, Minnie's Food Pantry, a food and hunger assistance non-profit, and Operation Kindness, a no-kill animal shelter.
You can read more about the wide variety of Yardi employee projects and causes supported here.