Learning with Play
By Erica Rascón on Mar 9, 2021 in Giving
Do you remember when learning was fun? So fun that you didn't realize you were learning because it just felt like playtime? I grew up playing "mad scientist" with my older brother, replicating his school experiments in our kitchen. My neighborhood friends and I played Jurassic Park as we trekked through the woods exploring plants, insects, and animal tracks.
Those days of childhood play are at risk for many of today's kids. kidSTREAM is a non-profit dedicated to preserving the art of effortless learning through play. Yardi Oxnard team member Wendy Aceveda-Solis serves as a board member with kidSTREAM. I spoke with her to learn more about this innovative organization.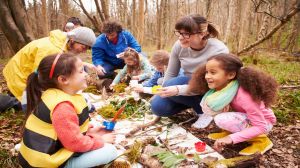 kidSTREAM: education through play
kidSTREAM is founded on the basic principle that learning should be fun and engaging. The organization provides an interactive environment where kids explore, play and discover. Each experience aims to inspire and empower kids to become critical thinkers, innovators and life-long learners.
Acevedo-Solis began working with kidSTREAM two years ago. In addition to being a board member, she assists with the fundraising and programs committees. She's passionate about museums and is excited to share interactive learning with children.
"I've been fascinated by museums since I was a child," she shares. "I have shared this passion with my children, and it is incredible to see the curiosity and desire to explore through their eyes! Most children's museums are outside of Ventura County, so when I heard about kidSTREAM, I wanted to help bring something to our community."
Since becoming a nonprofit in 2016, kidSTREAM has helped to educate more than 30,000 children and families around Ventura County. The non-profit focuses on experiences in science, technology, reading, engineering, arts and math.
A team of dedicated staff and volunteers host lessons where kids hang out the most: classrooms, parks, libraries and their (increasingly) their homes. While the pandemic disrupted daycare and school attendance, kidSTREAM staff worked steadily to ensure kids have access to fun and engaging learning materials at home. The organization offers Remote Resources, learn-from-home activities that use common household items. As a result, kids nurture a love of learning that can extend into adulthood.
"Embedded within the logo of kidSTREAM, there is the triple bottom line of community, ecology and economic sustainability," observes Acevedo-Solis. "Our goal is to create

a sustainable environment as we inspire the 21st century's workforce of scientists, technicians, writers, engineers, artists and mathematicians."
kidSTREAM is taking playtime to the next level! A one-of-a-kind museum will soon serve kids in Ventura County.
kidSTREAM museum is opening soon!
kidSTREAM will soon open a children's museum. The destination-worthy kid's museum will be the only one of its kind in Ventura County.
The museum opens in two phases. Phase One includes a half-acre outdoor play space. Leaders decided to open it first because "the need for play is greater than ever," per the website.
Phase Two includes an interior play space and museum. kidSTREAM is transforming a former community center into more than 30,000 square feet of exhibition rooms and exploration space. Young learners will enjoy permanent exhibits as well as temporarily themes exhibits to keep content fresh and exciting.
Learn more about Ventura County's new children's museum.
Yardi + kidSTREAM
Yardi Oxnard is a proud sponsor of children's education through kidSTREAM. The organization is one of a dozen selected to receive funding by the grants committee in 2020.
Acevedo-Solis says, "I am beyond humbled and honored to work for Yardi and be able to help give back to our local community. Yardi's core values of taking care of clients, taking care of its employees and taking care of the community is something that is lived and demonstrated daily."
She adds, "It is so rewarding to be able to work for a company that not only values taking care of its community but that seeks to support causes that are important to its employees. Yardi is truly at the forefront of philanthropic giving and wholly lives up to its Core Values!"
Join Yardi in supporting kidSTREAM. You can make a donation or attend the Rotary Golf Tournament on Monday, May 24, 2021 at Spanish Hills Country Club in Camarillo.