Island Harvest Food Bank
By Leah Etling on Aug 10, 2022 in Giving
Yardi is committed to supporting the community in every city where our offices are housed. Each year, the company distributes philanthropic aid to organizations selected by its employees.
In 2021, Yardi offices supported more than 350 nonprofits worldwide. For the remainder of the year, we will be bringing you the stories of those organizations and insight into how they aid their communities.

Today, let's learn more about Island Harvest Food Bank in Melville, NY. Island Harvest Food Bank provides healthy food and support services to hundreds of thousands of Long Island veterans, seniors, and families through both direct delivery programs and through a network of approximately 300 soup kitchens, food pantries, and other emergency feeding programs.
"Increased need across Long Island, coupled with skyrocketing food costs and supply chain issues, have added additional challenges for Island Harvest to ensure that we are able to provide healthy food to those in need," shared Joan Flynn, Business Engagement Manager for the Food Bank.
"The cost of food has increased by more than 10 percent over the past three months alone. The cost of fuel for our trucks to pick-up and deliver food has increased by more than 94 percent since last year. As the food industry continues to make shifts in its business model, the amount of donated food that we receive has dropped dramatically."
Support from Yardi and other donors is crucial during this difficult time. "Generous funding from Yardi will support the purchase and distribution of healthy food and product and the provision of supportive services to Long Islanders experiencing food insecurity," Flynn said.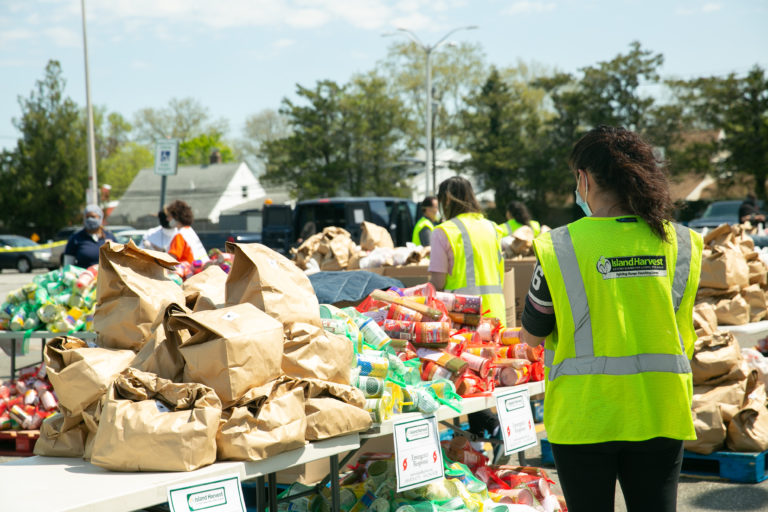 Since 2017, funding from Yardi has supported the distribution of more than 175,000 meals to Long Islanders in need.In addition, regional Yardi employees have donated their time by collecting food and funds for Island Harvest and providing volunteer support.
Providing food security
On a daily basis, Island Harvest staff encounter Long Islanders struggling to survive, struggling to put food on the table, or facing the unenviable choice of between buying medicine, gas for the car to get to work, and buying food.
"People are finding ways to survive and employing coping strategies like watering down food and drinks to make them go further or selling possessions just to buy food," Flynn said.
One such story is that of a woman who works in Melville, where the Food Bank is located. Her husband, a veteran, passed away seven years ago, leaving her with two children, and no insurance. Despite working full-time, she hasn't been able to get on her feet, and mostly all of her paycheck goes to pay the mortgage and property taxes.
"Afraid and embarrassed to stop in and ask for help, she drove past our Melville facility numerous times before finally working up the courage to come in. We directed her to a local food pantry in East Northport, and since her husband served in the military, we are actively connecting her through our Operation: HOPE program to see if she may be eligible for certain veteran's benefits, and services."
"We provided the family with food, offered her assistance in applying for SNAP and other benefits, but most of all we offered comfort and hope in knowing that she is not alone, and that help, along with a kind word, is always a phone call away."
A pivotal moment
Flynn shared that this is a critical time in Island Harvest Food Bank's nearly 30-year history as programs, services, community partnerships, and the number of member agencies served are growing exponentially in the wake of the pandemic.
Island Harvest recently purchased a new facility, more than doubling its office and warehouse space, which will enable the organization to collect, sort, store and distribute more food and product, thereby serving more people in need.
"But more importantly, Island Harvest also seeks to empower our clients to transition from uncertainty to stability with an array of services, which can now be expanded and enhanced in a larger facility with dedicated space for our Community Empowerment work, including SNAP outreach and assistance; short term case management and referrals for additional benefits and services; and a newly developed Workforce Skills Development Institute to provide training opportunities to those who are unemployed and underemployed," Flynn said.
The intent of the workforce development program is to connect participants to career pathways in the Long Island food industry.
Volunteer opportunities
Island Harvest Food Bank relies on thousands of volunteers to accomplish its work in the community.
The Food Bank offers hands on team-building experiences to engage employees while giving back to our community. For more information, contact Shannon Karafian, Volunteer Coordinator, [email protected]