Healthy Competition
By Erica Rascón on Nov 26, 2019 in Giving
The 6th Annual End Hunger Games is now underway! Foodbank of Santa Barbara County warmly welcomes you to mercilessly crush our competition. Only one organization will receive the Golden Turkey—will it be Yardi?
Yardi SB is Up for the Challenge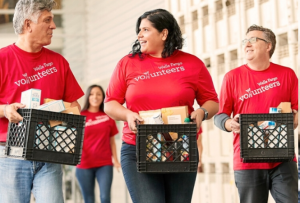 The End Hunger Games is a creative winter campaign that adds a competitive edge to fundraising. Local organizations are encouraged to out-donate one another in three categories:
Pounds of Food Nonperishable items are essential but there is also need for fresh produce
Funds Raised Monetary donations are allocated to programs with the highest need
Volunteer Hours Help to collect, sort, distribute and more! Volunteers are the backbone of the foodbank
The most generous organization will win the coveted Golden Turkey and receive bragging rights as Santa Barbara's fiercest giver.
Yardi Santa Barbara has participated in every End Hunger Games competition since the competition started six years ago. Several times, Yardi has emerged as the victor! Yardi team members are encouraged to show their support for the Foodbank of Santa Barbara County. Yardi employees can click here for details on how to accrue points.
Increasing Need for Food in Santa Barbara County
Natural disasters, the closure of other foodbanks, and economic hardship have increased the need for supplemental food services in Santa Barbara County. The foodbank has opened three new locations to meet the growing demand.
The newest location recently opened at St. George Community Church at 1032 E. Mason Street. This distribution center will serve the lower east side and west side of the county. The St. George location opened shortly after the Westside Neighborhood Center and Catholic Charities sites. (Foodbank SB distribution occurs in conjunction with regularly scheduled Catholic Charities distributions.)
Within the first week of opening the new locations, the Foodbank served more than 200 individuals in 100 households with more than 5,000 pounds of nutritious food including 1,835 pounds of fresh produce.
We Can't End Hunger Without You!
Join Yardi in the quest to end hunger in Santa Barbara County. Yardi team members have until December 15th to make their contributions to the End Hunger Games.
Not a Yardi Santa Barbara team member? No problem! Click the link to support the Foodbank of Santa Barbara County today.