3D-Printed Housing
By Erica Rascón on Sep 15, 2021 in Giving
Habitat for Humanity is leading the way on innovative housing solutions. The Tempe branch is exploring 3D-printed ranch-style homes to address a growing need for housing. The flagship structure demonstrates the efficiency and beauty of combining conventional and 3D printer construction.
It takes a village to print a 3D house
The three-bedroom, two-bathroom house was designed by Scottsdale-based Candelaria Designs and printed by PERI group of Germany using a Build On Demand (BOD2) printer. More than 20 sponsors provided funding.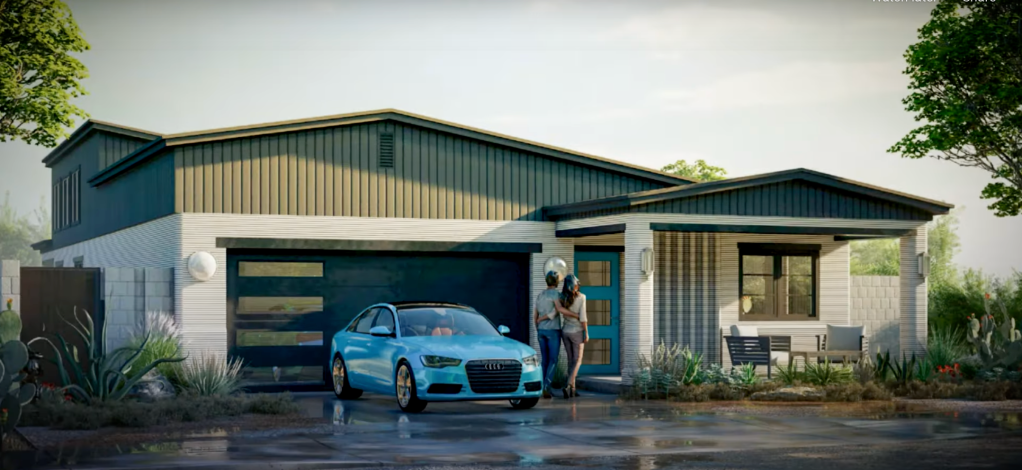 The house contains 1,738 square feet of living space and a total of 2,433 square feet for the project, reports the nonprofit. Of the total square footage, 70-80% of the house will be 3D printed.
The BOD2 works alongside construction crews and volunteers. It uses the gantry principle, which allows it to move in any position within the structure, printing inner and outer walls in thin layers. As it prints, human workers can continue their electrical, plumbing and other tasks. Humans will also install the ceilings. Construction is scheduled for completion in October 2021.
Explore Habitat for Humanity's earth-friendly passivehaus design.
For now, the BOD2 house at 677 W. 19th St. will be one-of-a-kind. The 15 adjacent homes will be traditional builds on four city lots. Habitat for Humanity has made it clear that more 3D-printed homes are of interest.
The project is a direct response to an acute affordable housing crisis in the area, reports the nonprofit. About 20% of renters are considered extremely low income. Of them, 75% of households are severely cost burdened. The phrase is used by the National Low Income Housing Coalition to describe renters spending more than 30% of their income on housing. The state would need more than 136,000 affordable units to safely house extremely low-income renters.
Scalable, affordable and efficient
Long term, Habitat for Humanity sees hybrid builds as "a scalable, cost-effective homeownership solution to address the affordable housing crisis facing communities nationwide," per a statement on the organization's blog.
"This is really a moonshot opportunity for Habitat for Humanity Central Arizona," said Jason Barlow, president and CEO of Habitat Central Arizona."When we consider the housing issues facing Arizona, the need for affordable homeownership solutions becomes clear.If we can deliver decent, affordable, more energy-efficient homes at less cost, in less time and with less waste, we think that could be a real game-changer. Think of the implications."
Yardi and our clients are Energized for Good! Read about our recent Habitat for Humanity build in North Carolina.