Habitat Gets Greener
By Erica Rascón on Nov 5, 2014 in News
The uptick in green affordable housing continues as Habitat for Humanity embraces passivehaus design.
Passivehaus, or Passive House, is a rigorous German building standard that emph
asizes air-tight envelopes, optimized solar gain, and decreased dependence on mechanical heating and cooling. Such stringent standards and cost assumptions have discouraged many affordable housing developers, yet Habitat for Humanity teamed up with BarlisWedlick Architects to look at passivehaus through an affordable lens.
Dennis Wedlick of BarlisWedlick admits that he had his reservations about the project, though they weren't rooted in costs or standards.  "We were concerned about how much training it was going to take for the volunteers so they could achieve what custom builders and their subs normally achieve on a project like this," he says. "But there was no problem."
Columbia County townhouses were born, each costing about $125,000 and 4,000 volunteer hours to build. The results are well worth their efforts. Each 1,200-square-foot home achieved an air tightness level of less than .6 air changes per hour, and an R-value of 50-60 for the walls and roof, thanks to glorified newspaper insulation (weatherized cellulose insulation to be exact). Columbia County townhouses use less than 90 percent of the energy required to run a conventional home of the same size.
The efficiency of passivehaus construction loses value if residents do not receive the proper tutorials on how to optimize the home's features. Owners were taught the ins and outs of daily operation and maintenance, simple pointers such as closing the blinds during the hottest time of day and running the recovery ventilator nonstop. Time will tell if the houses and their residents live up to their greatest potential.
Yet even with a margin for human error, such green building techniques offer three-fold benefits to those who need it most. Efficient homes accumulate lower utility bills, making more funds available for families' basic needs. With 19 million households eligible for affordable housing,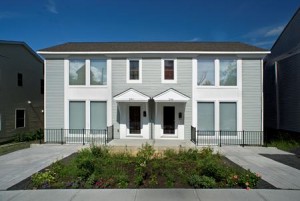 equipping even a fraction of these homes with sustainable features would have notable health and environmental impact.
Of equal value, the Columbia County townhomes permit residents to age in place or take care of an aging or disabled family member. Rooms within the home are wheelchair accessible and each unit has a room on the first floor that can be converted into a bedroom.
Habitat for Humanity's project demonstrates that sustainable, age-in-place homes and all of their benefits can be affordable for low-income households as well as the 15-16.9 percent of Americans who currently live in poverty.
The nonprofit organization has already broken ground on its next duplex project, this one reportedly more efficient that the last. The new properties are slated for completion in January 2015.