A Mission in Action
By Erica Rascón on Apr 27, 2020 in Giving, People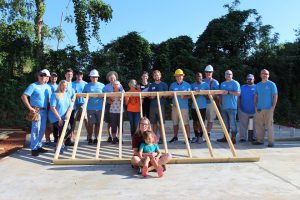 When a company's mission statement is pulled from the page and implemented in daily life, it can transform the world. Grubb Properties' vision statement encourages "working together to enhance life and community." To fulfill that mission, Grubb Properties has teamed up with Habitat for Humanity. Together, they enhance life and community by building homes for those in need.
In 2018, the North Carolina-based property manager and developer committed to build one Habitat home per year for ten years. Each home is built in cities where Grubb Properties has a presence.
Grubb Properties, Yardi + Habitat for Humanity unite
The 2018 build took place in Winston-Salem, NC followed by a 2019 build in Greenville, SC. Shawn Cardner, executive vice president, multifamily operations and information technology at Grubb Properties participated in the Greenville build. He was joined by Yardi team members Paul Yount, industry principal, sales and Jim Hill, director of consulting practices.
"Paul and Jim were instrumental in garnering support from Yardi. We are incredibly thankful for Yardi's financial contribution. To be honest, though, even more impactful was the commitment of time, energy, and travel that Yardi team members made to participate," says Cardner.
Habitat schedules several build days for a given house project. Each day requires at least 20 volunteers for framing, roofing, finishes, landscaping and more. To assist Grubb Properties volunteers, several Yardi employees made the three-to-four-hour drive from Raleigh to Greenville. In addition to Hill and Yount, Yardi volunteers included Zach Smith, Edward McNamee, Terry Judd, and Lucas Bader.
"On top of the long drive, they then spent seven hours on the jobsite with temperatures near 100 degrees. It's one thing to write a check and then tell people how charitable you are. It's a much more impactful statement when you contribute your time, energy, blood and sweat for something. We're thankful that Yardi contributed in both ways!" says Cardner.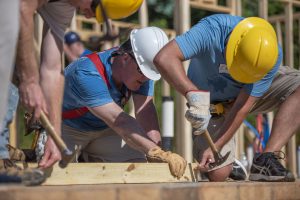 The heart of giving
"We all felt a sense of accomplishment at the end. We started from an empty concrete slab and ended the day with all of the interior and exterior walls built and external sheathing attached as well," reflects Hill. "We enjoyed spending the day with the Grubb team, the Habitat sponsor family and Habitat volunteers.  We all worked as a team. Seeing the finished job was pretty amazing."
Cardner adds, "As a member of our executive team, I'm just thrilled at the way all our employees, communities, and partners come together to work on a shared project. Grubb employees volunteered 368 hours on that build. Our employees also donated $7,055 to it which is just over 10% of the total amount raised through partner sponsorships. I'm incredibly proud to work with such incredibly generous and thoughtful people."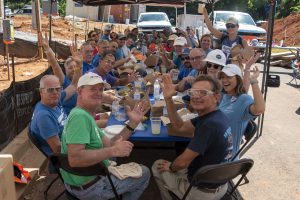 Grubb + Yardi, beyond the software
The relationship between Grubb Properties and Yardi began as any B2B relationship would. Yardi provided a service and Grubb paid for it. But over the years, the relationship developed into a mutually supportive partnership.
"Folks like Jim, Paul and Stephen Witek have worked tirelessly to develop the partnership that we have today. I don't use the word partnership lightly. I know Yardi believes that the best way for it to succeed is to help companies like us succeed."
Hill adds, "At Yardi, nurturing client relationships is paramount. Additionally, Yardi is blessed to have the encouragement of Anant Yardi to support local philanthropic projects in the communities where we live. The local impact in our neighborhoods adds a level of personal pride at working at Yardi and in helping our clients and communities at the same time."
Continuing the good work
"In the end, the best way to describe Grubb Properties' stance on philanthropy is just to say it's who we are," explains Cardner. "It's what our leadership believes in. It's what our employees believe in. It's even a characteristic of the residents we try to attract to our properties. We want to be good stewards of our communities."
The 2020 Habitat for Humanity house will be built in Chapel Hill, NC.  Join Yardi in supporting the build. Make a contribution to Grubb Giving.