Rock-Solid Learning
By Joel Nelson on Jun 14, 2022 in Technology
The value of learning management systems as a catalyst for organizational improvement was the topic of a recent webinar hosted by Patty Evans, industry principal for Yardi Aspire, and featuring employees of the Boulder (Colo.) Housing Authority.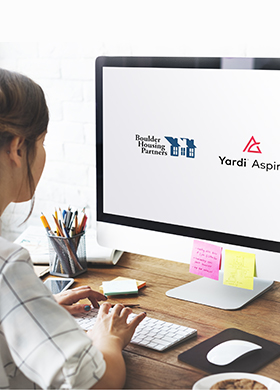 Learning management systems can promote stability among an increasingly restive employee population. Evans noted that more than 47 million Americans voluntarily left their jobs last year. A recent study of U.S. workers by Cengage Group showed that 64% of survey respondents identified training as integral to their role, while 78% of employees who quit in the preceding six months took an online course to prepare for their next job. An Amazon-Gallup study found that 47% of employees are "extremely interested" in training that upgrades their skills and advances their careers.
"It's clear that if employers do not provide adequate training, employees will find ways to develop the needed skills and that may mean getting a job elsewhere.," Evans said. "Employers need to have a new mantra: If we want to retain our staff, we have to focus on skills development."
These factors have prompted BHA and other agencies to adopt Aspire, an online learning management system that automates the delivery of personalized learning experiences to half a million users worldwide. Along with live event management, Aspire includes about 1,300 courses on Yardi software, HR topics, compliance and safety, professional skills development and more. Its content is routinely upgraded to reflect changes to Yardi software, industry standards, and federal and state legislation. Learners seeking to refine specific skills can use the site-wide search tool or interactive catalog to locate and sign up for training on more than 200 industry skills and review recommended training options for their current or desired role.
Boon to virtual onboarding
Along with offering workers immediate skills practice and real-world applications, Aspire also benefits BHA and other organizations as a virtual onboarding tool that automatically assigns relevant training and resources for success to new employees as they begin new roles. The system also automatically recalibrates training assignments as employees transfer to new roles or locations throughout their career.
"We can customize the Aspire content with unique company messages such as BHA's values and mission. This helps make a great first impression of the organization with new employees," said Carrie Murphy, BHA's learning management system manager.
"You'll be surprised how much you can do with Aspire's proprietary authoring and communication tools to make your staff feel not just welcome but connected to your organization. With a little imagination, your employees can dive in and immediately interact with your organization through Aspire," Evans added.
Benefits of automation and personalized learning
The webinar revealed that employee engagement and efficiency offered by Aspire holds increasing relevance in today's work environment. "Since the start of the pandemic online learning has seen a massive increase in participation and continues to grow. Companies benefit when employees feel confident and employees thrive when they're given opportunities to learn new skills, receive feedback on their training performance and participate in a learning community," Evans said.
Aspire helps BHA's training administrators by automating time-consuming, repetitive processes, from training announcements, registration management and training and skills assessments to feedback collection and recommended next steps. It also delivers new organizational efficiency and direct cost savings with self-paced content that is automatically developed and maintained by Yardi and industry experts. Trainers can spend less time developing and delivering introductory information and beginning skills and focus more time training advanced topics and imparting institutional knowledge.
"Automated training management saves us a lot of time," Murphy said.
Rosemary Mendenhall, a community manager for BHA, offered the user's perspective. "I love that I can personalize my learning with Aspire. I can pick the classes that I want, with my managers assigning me additional classes that tie in with my job and experience," she said, noting that the variety of training methods – including highly interactive content, software simulations, course materials, and 'try it' challenges, multimedia and simulated skills practice – give all learners equal opportunities to succeed."
Other benefits of Aspire include the elimination of costs associated with live, in-person training, such as facilities, travel and equipment, that can consume more than 15% of a training budget. On-demand training also relieves instructors of the time instructors spend preparing, delivering and concluding training so they have more time to spend directly coaching employees to the next level
Learn more about how Yardi Aspire can help all types of property management organizations reduce the time needed to create, maintain and administer courses by hosting all training-related course content and documents in a centralized platform.