Elevate Revenue
By Yardi Blog Staff on Mar 8, 2022 in Technology
Yardi has launched Elevate Revenue, a CRE solution stack that streamlines the entire deal lifecycle from lead to lease. Specifically intended for owners, asset managers and leasing teams, the all-in-one solution was designed in collaboration with commercial experts and industry leaders.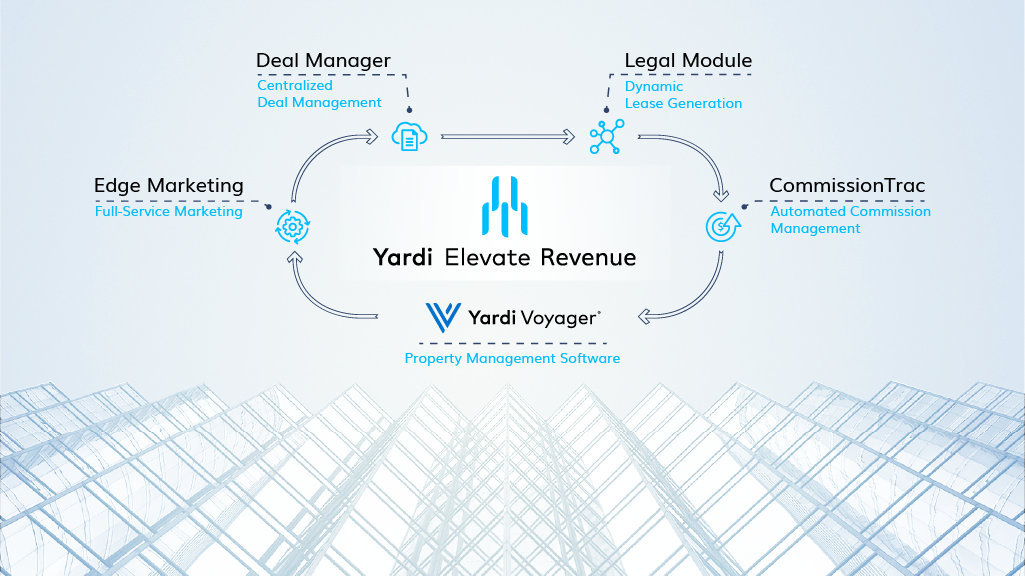 The end-to-end portfolio management suite, supported by decades of real estate research and software development knowledge, optimizes the deal workflow through powerful automation, enhanced team collaboration and extensive insights.
Providing unmatched portfolio visibility, Elevate Revenue seamlessly integrates marketing, leasing system and commission management tools into one centralized platform.
With Edge Marketing, real estate professionals can effortlessly market listings and generate verified leads through Yardi's rapidly growing CommercialEdge Listing Network. From there, Deal Manager further streamlines leasing operations by enabling users to smoothly manage prospects and oversee each stage of the deal flow, while automatically comparing deal economics to approved budgets and prior leases.
Additionally, to simplify the legal process and easily track legal documents, the Elevate suite includes Deal Manager Legal Module, an intuitive tool that allows users to automatically generate standard lease agreements directly in the application. And it doesn't stop there. CommissionTrac, Yardi's commission management tool, efficiently rounds out the leasing process by automatically tracking and paying the commissions of both in-house and third-party brokers.
Elevate Revenue is fully integrated with Yardi Voyager thanks to Yardi's built-in CRM — this smooth connection ensures maximum portfolio and deal pipeline oversight in real-time. Voyager clients can sync properties, spaces and availability across their portfolio. Listings are automatically published based on lease expiration dates or automatically unpublished once a tenant is activated for a specific space in Voyager.
In October, Macerich — an owner, operator and developer of retail and mixed-use destinations throughout the U.S. — leveraged Deal Manager and Edge Marketing solutions to launch their own intuitive leasing platform. Quikspace provides tenants with flexibility to lease short-term space, conduct online research and tour spaces virtually.
"By digitizing the process, Macerich is simplifying every aspect of short-term leasing with the goal of providing tenants with a frictionless experience," explained Ken Volk, executive vice president of business development at Macerich.
The Elevate Revenue set of connected solutions empowers users to make data-driven decisions and streamlines the entire leasing process. And because the all-in-one solution is accessible directly from a mobile system, executive teams can approve deals from anywhere, at any time.