Tesla's Powerwall
By Anca Gagiuc on Jun 16, 2015 in Technology
It's been all over the news – the real-life Tony Stark has unveiled Tesla Energy, an ambitious plan to power the world with a home battery which eventually will not only make the consumers less dependent on the grid, but take them off it entirely. Tesla founder Elon Musk has presented the Powerwall.
And it makes complete sense. Tesla launched the home battery system and Tesla's CEO Elon Musk is the chairman at SolarCity; SolarCity will handle the installation of the Powerwall.
The Powerwall measures 51.2" x 33.9" x 7.1" and comes in different colors; its primary function is that of storage system for solar power, but will also work for non-solar energy consumers in cases of power outage and furthermore to avoid feeding from outside electricity during peak periods (evenings) when utility prices are highest. Up to 9 devices (totaling 90kilowatt hours) can be stacked per home. It is good to know that the typical American home consumes daily about 30 kWh, so in order to cover the entire power need, one would need several batteries.
Additionally, Musk announced that there will also be the Powerpack, a similar device designed with industrial usage in mind, as well as a smaller 7 kWh Powerwall.
Here are some specifications on the Powerwall: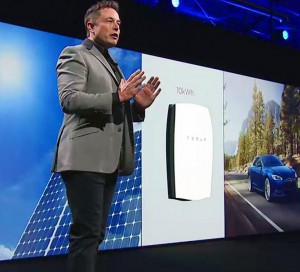 Models:
10 kWh $3,500 – For backup applications
7 kWh $3,000 – For daily cycle applications
Warranty – 10 years
Compatibility – Single phase and three phase utility grid compatible.
Power – 2.0 kW continuous, 3.3 kW peak
Operating Temperature: -4°F to 110°F / -20°C to 43°C
Musk's new baby is already promising to grow big and strong as there is major interest in the product – the company has announced that so far it has taken 38,000 reservations for the home battery, a number that made Musk admit that it's impossible to satisfy demand this year.
Who are the customers? Probably those who already own their own solar systems; also, people who live in areas frequently visited by storms might find it useful and more reliable than the old-fashioned emergency generator that runs on gasoline or diesel.
The newly launched Powerwall can be reserved on the developer's site as well as on TreeHouse's website; it will become available by late summer. After delivery, SolarCity estimates the cost will rise to $7,140 to include installation, or to $5,000 for a 9-year lease.
Basically, the Powerwall seems to be an auxiliary device to the solar panels developed and distributed by SolarCity, a Tesla battery redesigned to match the residential use. Who needs the photovoltaic storage system and solar inverter from Bosch, or LG Chem's recently launched premium home battery system for North America, or any other battery already out there when you can have a one-family type of product that gathers, stores, distributes clean energy, and looks stylish? You be the judge.
To me it looks like Tesla fans try to make the case that their company is different than all the rest because the products it makes look good and are well engineered. This makes me wonder: is Tesla the Apple of batteries? Except that, unlike Apple's products that are visible at all times, a battery system doesn't fit in the premium consumer product market to be placed next to an iPhone or a Tesla car, but rather a thing that sits in the closet and works seamlessly with the home's power system, without me needing to worry about it.