Targeting Creatives
By Anca Gagiuc on Oct 27, 2016 in Technology
A little over two hours were needed for Microsoft to showcase its latest products and software upgrades, putting a call out to "creators" now, meaning everybody. The giant unveiled the new version of Windows 10, dubbed Creator Update—which includes plenty of 3D-focused features, as well as an updated Surface Book and a jumbo all-in-one PC called Surface Studio. The underscoring theme was all about a mixed reality, a futuristic combo of holograms, virtual reality and three-dimensional emoji.
Windows 10 Creators Update
The operating system is getting a major update for early 2017. Highlights include the addition of new 3D creation tools, live-streaming and custom tournaments for the Xbox app, as well as a focus on communicating with close contacts by placing "people at the center of the Windows experience." Terry Myerson, executive vice president of Microsoft's Windows and devices group said he wants Windows 10 to "have the effect of the Gutenberg press on the next wave of computing."
Microsoft's long-forgotten Paint is getting a revamp. Named Paint 3D, the software makes it easy to create 3D objects and environments. The philosophy behind it is to simplify as much as possible 3D creation, to the point where it becomes as easy as taking a photo or video with a smartphone.
The update will impact Microsoft PowerPoint as well. The classic options will still be there, but a new feature will enable users to add a 3D rendering to their presentation. Moreover, users will be able to search from within the community of Remix3D.com, as well as their own. The insert process is actually the same for 3D models as is for 2D photos or videos today. Perfectionists will be happy to discover that they can rotate the 3D object in PowerPoint.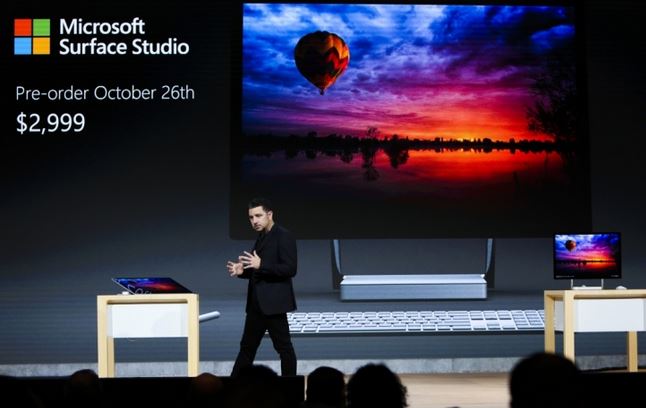 Microsoft's ambitious augmented reality headset—HoloLens—runs on Windows Holographic, which is built around Windows 10 API, thus the Creators Update influences it directly too. With HoloLens, users will be able to preview furniture in their homes using the AR headset and 3D models created by companies. One of the really interesting uses of HoloLens was demonstrated on stage when the presenter stepped into a control room that was running several apps at the same time. Stepping in this space basically allowed the presenter to escape reality and interact with a digital apartment.
Another major update announced at the press event showed how much easier Windows 10 will make messaging family and friends straight from the desktop—users will be able to pin people's profiles to the taskbar; clicking on one of them will enable the transmission of messages, files, emails and more. The profiles link out to anyone logged into Windows, but there will also be an option to relay SMS messages from Windows and Android phones. In many ways, this is similar to Apple's iMessage.
The updated 2-in-1 notebook will be available on Nov. 10. The device starts at $2,399 for a model with 256GB of storage and 8GB of RAM. Additional configurations with 512GB and 1TB of storage sell for $2,799 and $3,299 respectively, both boasting 16GB or RAM.
Microsoft claims that the new machine was boosted with twice as much graphics performance by equipping it with Nvidia GeForce 965M 2GB graphics processor and 30 percent more battery life. According to the company, the Surface Book feeds on more batteries built into the device, extending its battery life to 16 hours (earlier models kept going for up to 12 hours). Under the hood the device holds an Intel Core i7 processor, but for some reason it has stuck with the old 6th-generation Skylake processors.
Design-wise, the laptop is almost identical to the version Microsoft launched last year—magnesium alloy finish, flexible hinge, Surface Pen stylus and a detachable 13.5-inch display. However, the company announced they've redesigned the device's thermal system and added a second fan to help keep the device cool. Also, the new battery puts some weight on it, reaching 3.63 pounds. There's one catch though, these updates strictly apply to the highest-end configurations. The standard versions will be available starting at $1,499.
By far the star of the event, the all-in-one PC is said to go after the creative professional class with which Apple's iMac has long held sway. The device flaunts a 28-inch PixelSense touchscreen LCD display with a 4,500 x 3,000 resolution (63 percent more pixels than a 4K TV), "TrueColor" technology and a slick swiveling base and a bank of microphones designed to access Cortana, Microsoft's virtual assistant.
Inside, the highest version of the Studio packs the 6th generation Intel i7 processor, GeForce 980M GPU, 32GGB of RAM and 2TB of storage. In order to offer a comfortable position while working/creating, the Studio has two chrome arms that pivot on a hinge—this allows users to push the device down into a 20-degree drafting angle intended to be used with the Surface Pen.
The Surface Dial, the standalone puck that works with all Surface devices, sells for $100 and will be included in every Surface Studio pre-order, but only for a limited time. The gizmo works on and off the screen, providing haptic feedback and allowing the user to switch between features, brush sizes, colors and volume, depending on the used app.
The Studio isn't a computer, but an entirely new computing category, a kind of desktop-tablet hybrid that people already seem to love. However, the starting price of $2,999 (it goes up to $4,200), nearly triple the price of the cheapest iMac.