Self Storage Insights
By Max Glassburg on Jul 19, 2022 in Technology
Corey Rothgeb is the senior staff accountant for Self Storage Plus, an independent business that generates $3.6 million in annual revenue. We talked with him about what it takes to succeed in the storage industry, how he addresses industry challenges and the ways Yardi Voyager saves Self Storage Plus enormous amounts of time and energy.

Tell us a little about yourself. What's your background, and how long have you been in property management?
I've been with Self Storage Plus since August of 2020. Prior to that I lived in San Diego, California. I studied at the University of California San Diego and received my bachelor's in economics in 2019. I got my foot in the door in property management with a publicly traded REIT in San Diego. That's where I practiced on property management software. I worked there for about nine months as an accounts payable clerk and financial administrator working on budgets. Then I made the move to the East Coast in August of 2020 and started as a staff accountant at Self Storage Plus.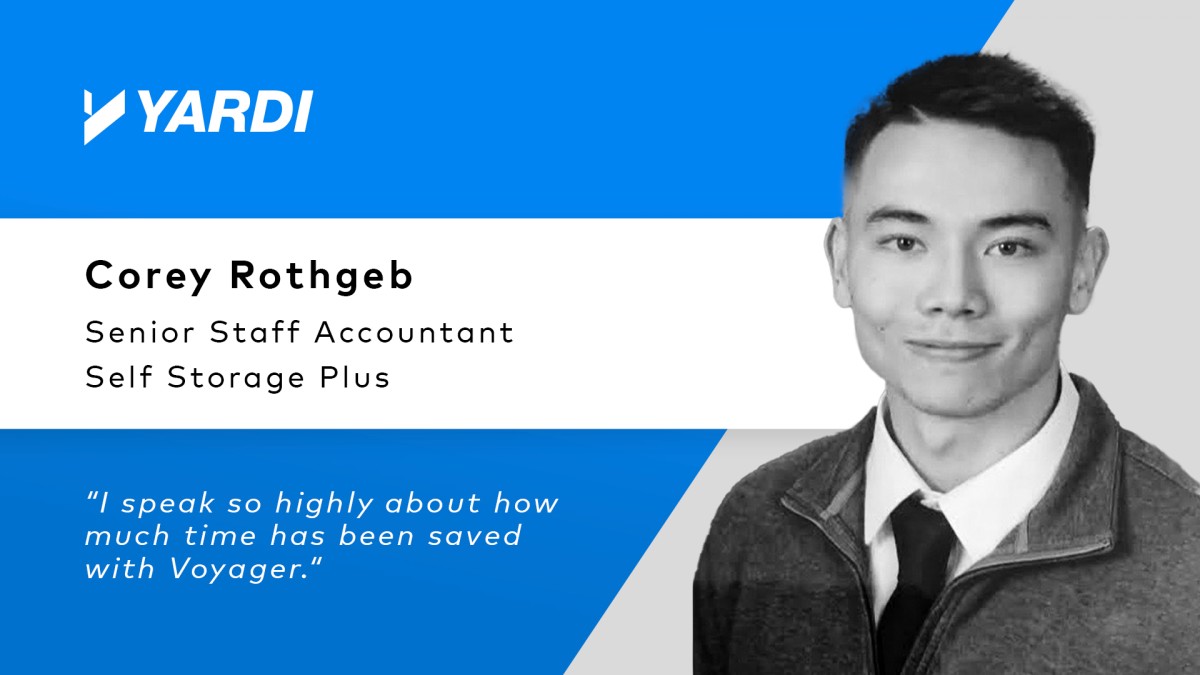 I've since progressed from staff accountant to senior staff accountant and currently hope to progress to controller. There have been opportunities to grow tremendously in property management, and I love the whole real estate industry in general.

What challenges does property management software solve for your business?
Voyager helps with reporting on our end. I think the biggest challenge we faced when the company switched to Voyager in 2020 was just having processes in place, and Yardi really helped provide structure for those. The invoicing and reporting automation in general provided a kickstart to getting all of our processes in place.

What features in Voyager are helping you solve those challenges?
The ability to run and automate specific reports. In fact, my favorite part of Voyager is the report scheduler. I speak so highly about how much time has been saved with Voyager. Running reports for each property saves at least four hours each time we do it. Without that report scheduler function, we would be running reports for at least two days.

We're able to dissect reports by many different filters. We currently have four district managers, and we're able to run four different reports for each property. We're able to do that in one fell swoop, rather than one at a time.

Another big benefit has been the ability to automate email reminders for every user. We have it set up so that an automatic email goes out to each user once a week. They can review invoices and make payments as necessary, and it saves countless hours compared to sending them one by one.

In terms of time saved with automation, the Yardi PayScan full-service invoice processing function saves a huge amount of time. We have a PO Box where invoices are sorted, in addition to our email. We set up our vendors with our PO Box as the billing address while routing our emails to our accounting email. The accounting team routes those e-bills to the PayScan email, which saves a tremendous amount of time. PayScan Full Service probably saves us about four hours a day in manual labor. That includes paper sorting, scanning and manual upload.

The last note I have on automation is Yardi Bill Pay. It saves a tremendous amount of time on fee processing, time spent putting together mail and check signing. Without Bill Pay, we would probably spend another day a week just processing payables.

Prior to having Voyager for storage what tools, did you use?
My previous company used MRI software for property management, and for invoice processing they used AvidXchange. I personally like Yardi better because of the reporting, automation and control. I think Yardi does a good job of automating a lot of internal controls. Without us even being mindful of it, Yardi protects our company controls, whether that be accessibility, security options, access for accounting or access for construction. I think all of that really puts Voyager above other software.

What would you tell a facility manager who is still on the fence about self storage software?
If your company is rapidly growing, Yardi provides the scale, automation, efficiency and control to allow your company to expand as rapidly as you hope. They'll help you build to scale as you continue to grow
.
How is Voyager going to fit into the future of your business?
I think Voyager fits extremely well. We always review our processes, goals and vision in terms of being able to scale toward our goal of operating 100 stores. We're currently in the process of reviewing payables, reporting and whatever else might come our way. Like I said earlier, in terms of control, efficiency and reporting, Voyager fits very well into our plan. Now we just need to fine-tune to ensure we're ready once we get there.