Responsive Design
By Geneva Ives on Apr 8, 2013 in Technology | 1 Comment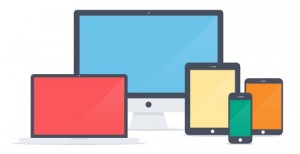 It's becoming increasingly apparent that the future of computing is moving from one type of screen – traditional computer monitors – to many types of screens with a plethora of different sizes and resolutions. Smartphone and tablet sales are outpacing PCs, and innovative web-browsing technologies, like Google Glass and the iWatch, appear to be on the horizon.
What does this mean for websites everywhere? To stay ahead of the curve, you need a site that looks good and functions well on any and all devices. It's time to take steps towards responsive design. In fact, Mashable.com – one of the Internet's most popular news and technology blogs – has declared 2013 the "year of responsive web design."
What Is It?
Responsive design is the practice of creating a website that provides an optimal viewing experience across all devices. Responsive web designs resize and reformat page content in response to screen size and resolution.
More Views, Higher Quality
Responsive websites reach more consumers because they tend to appear higher in search engine rankings. Why? Because they have a single URL, instead of multiple URLs for different versions of a site. This makes it easier for crawlers to discover and eventually index content. Responsive sites also load faster than mobile sites because mobile sites have to be redirected to the mobile URL. Responsive sites do not have to be redirected. Faster load times can boost your search result rankings.
Additionally, responsive design may decrease your bounce rate among visitors by improving viewing and linking capabilities across the board. Having a responsive site means that mobile viewers see exactly the same screen that desktop viewers do, instead of a bland mobile site with decreased capabilities. Mobile users also enjoy improved link-sharing via responsive design. For example, if you have a mobile site and someone wants to share one of your links from their phone via email, the email recipient would receive a link to the mobile site only. If they click that link on their laptop, they will be directed to your mobile site that is not optimized for viewing on a computer screen and are likely to bounce. A responsive site yields links that perform the same no matter which devices they are shared between.
Less Work
Chances are that you (or your company) have already spent a lot of time and money developing your existing website – and possibly also a mobile version. Creating a new, responsive design that will work across all platforms – essentially starting all over again – may not sound very appealing. Why invest even more resources when you currently have a system that works for you?
The answer to that is two-fold. First, making one site that works on every screen is a lot less labor-intensive than keeping the sites you have and creating a new version each time another type of phone or tablet or who-knows-what hits the market.
Second, a single, responsive website is a lot less work to maintain than multiple websites made for a variety of devices. If you have product updates, promotions or policy changes, you only need to edit your content once to have it appear correctly to all viewers, regardless of which device a person is using to access your site. Accuracy of information increases, and data entry work decreases. Responsive design also yields only one set of analytics, which is easier to manage and interpret than multiple sets of analytic data.
Real Estate Applications
Here at Point2, we've been working hard to make many of our real estate website themes responsive. This means that our members can simply select a Point2 Agent theme with a mobile-friendly design to reach prospects no matter where or how they choose to access the Internet. It's estimated that more than one-fifth of homebuyers do at least some research from their mobile devices, so responsive design is critical to our market. At present, we have over 30 customizable responsive website themes, with still more on the way.
Takeaway
For now, responsive web design is Google's recommended configuration. Although it may seem like a hassle to revamp your site now, converting to a responsive design will attract more visitors, retain higher quality visitors and be easier to maintain and update in the long term.
Do you want to design a new version of your site every time a new device hits the market? Of course not. Design it once, design it right, make it responsive. That's the web design mantra for 2013.
Editors' note: Geneva Ives is the marketing writer for Point2, a leading provider of online marketing solutions for real estate professionals, including custom websites, syndication tools and prospecting utilities. She will be contributing technology-oriented real estate interest posts to The Balance Sheet.