Largest EV Station
By Anca Gagiuc on Nov 14, 2017 in Technology
Automakers have been hard at work, developing ideas for the cars of the future, but in order for the new vehicles to have a future, a proper infrastructure needs to be designed and put into place. The battery industry is in full swing with more and more scientists getting involved into the development of bigger and better ones, bu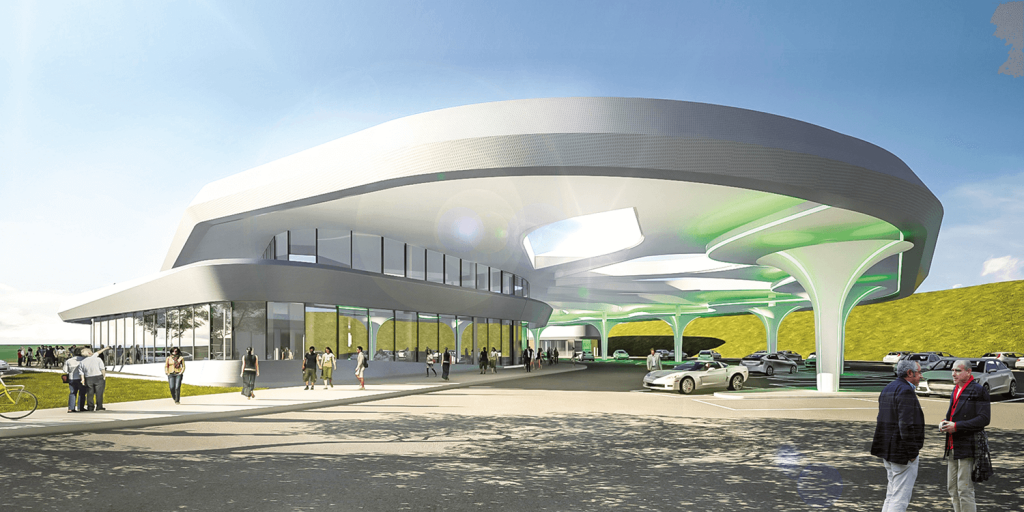 t regardless of their capacity, they all need to be recharged. This means that charging stations need to spring in at least as many locations as the conventional gas stations.
Sortimo, a German company headquartered in Berlin, unveiled plans of what's to become the largest electric vehicle fast-charging station in the world—the Sortimo Innovationspark Zusmarshausen. The project will be located along Germany's six-lane A8 highway, in the industrial area in Bavarian-Swabia, between Ulm and Augsburg, in close proximity to Tesla's Supercharger in Jettingen-Scheppach.
The electric vehicle (EV) fast-charging station will consist of 144 charging ports, which will allow for more than 4,000 cars to be refilled with energy on a daily basis. Of the planned charging columns, 24 are to be superfast chargers, with a charging capacity of record-breaking 350 kilowatts, meaning that a vehicle battery can be replenished in only a few minutes.
Tesla's 'Superchargers' currently stop at about 150 kilowatts, but even though this is more than what today's car batteries can handle, the company is convinced that both battery capacities and the need for charging infrastructure are growing at a significant pace.
Moreover, the Innovationspark will feature offices, shopping and dining areas, serving those who stop to recharge their vehicles. The images accompanying the announcement reveal that the planned station will be topped with green roofs, emphasizing on the development's care for nature and awareness for the environment.
The massive charging station will be fully supplied by renewable energy through photovoltaic panels and will also have the capability to store energy. Any surplus will be used at peak times by a network of surrounding companies and households. In addition, the ports will be integrated into the thermal station management, to use their waste heat to supply the buildings.
The park will have a dedicated app (iOS and Android) that will display all relevant information as well as grant entry after registering the vehicle via the plate number. Assignation to the charging ports will also be made via the app. The user will be able to specify in advance the type of loading his vehicle needs.
Business travelers will be able to charge their devices, too, as well as use the "Charge & Work" service for telephone conferences or meetings on the motorway. Booking for this type of rooms will be available also through the app. Everyone else can choose to go for a walk in the facility's park.
The park is scheduled to break ground in 2018 and is estimated that upon completion it will save 7.8 million gallons of fuel (the equivalent of 40 million euros) and 60,000 tonnes of carbon dioxide per year.