Intel's Vaunt Glasses
By Anca Gagiuc on Mar 13, 2018 in Technology
If you lived through the Google Glass launch and decided that smartglasses are not a device you would use every day, you mi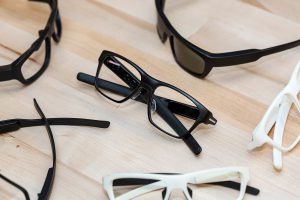 ght consider changing your mind. Intel's development team has been busy and has something new to share.
In an exclusive arrangement with The Verge, Intel showcased the new Vaunt gadget, a piece of tech that doesn't scream at you 'tech.' They're probably the closest thing to regular pair of eyeglasses and come in several styles, work with prescriptions and can be worn all day long without having your nose or ears get numb.
Intel's New Design Group (NDG) boast a simple interface, minimal design and a non-intrusive notification system, just the features to make the world have a second look and maybe bring the smart eyewear to the mainstream.
Weighing almost 1.8 ounces (50 grams), the Vaunt glasses have plastic frames, which make lighter than most of the smart glasses and AR headsets out there, and most importantly, they feel like a regular pair of specs. At a first glance, nothing 'smart' really stands out—there are no visible camera, buttons or touch controls—which is ironically a plus. Intel learned from its predecessor (Google) that these elements are driving people away.
The Vaunt's technology is made by Intel, as are the chips and application processor. At the moment, the smartglasses are designed only to display notifications and basic information directly into the user's eyes. Think text messages, recipes and directions, but following the launch, developers will come up with new apps serving various purposes. Let's get back to the 'directly into the user's eyes' part—Vaunt works by the means of a Vertical Cavity Surface Emitting Laser (VSCEL) to project information onto a reflector onto a reflector on the right lens, which in turn reflects information directly onto your retina. As scary as it might sound, the specialists at Intel are confident that such a low-powered laser are harmless for the eyes.
"We had to integrate very, very power-efficient light sources, MEMS devices for actually painting an image," Jerry Bautista, the lead for the team building wearable devices at Intel's NDG, told The Verge. "We use a holographic grading embedded into the lens to reflect the correct wavelengths back to your eye. The image is called retinal projection, so the image is actually 'painted' into the back of your retina."
As it displays the information on the back of your retina, the created image will always be in focus, both on prescription glasses and on non-prescription lenses. Furthermore, the gadget's notification system display works via Bluetooth with Android and iOS devices, just like a regular smartwatch—taking commands from an app that runs in the background to control it. A set of sensors, an accelerometer and a compass are also included in the stems of the glasses, in order to detect basic head gestures and to notice what direction you're looking. No microphone was installed in this version, but chances are that future models will have one so it can be used as a way to communicate with intelligent assistants.
Because the notifications seen by the user are not visible to anyone else, Vaunt needs to be fitted to the user's face. Just like regular glasses, all it takes is to measure the pupillary distance. Then those are programmed into a pair of Vaunts and that's it. There's another cool feature: the projection of the rectangle of red text and icons, on the lower right of the visual field, doesn't appear unless you're glancing down in that direction. It has to do with Intel's intention to remain nonintrusive. And if you're worrying that you might miss a notification or two, Intel's engineers beg to differ—the eyes almost never sit still, they move a lot and see plenty in their peripheral vision all the time, it's the brain that doesn't bother to process and send that information in your focus. Anything new, Intel claims, you will see.
"An LED display that's always in your peripheral vision is too invasive. … this little flickering light. The beauty of this system is that if you choose not to look at it, it disappears. It is truly gone," said Mark Eastwood. NDG's industrial design director.
The specs are designed to last a full day (at least 18 hours) and if the battery runs out, they will still work as a regular pair of eyeglasses.
Intel has high hopes for the product, but wants to play it safe—the company is interested in attracting investors to contribute to the business, and not just financially, but "with strong sales channels, industry or design expertise."(Bloomberg) Stay tuned!