Hospitality to Healthcare
By Erica Rascón on Oct 26, 2020 in Technology
Senior housing providers are witnessing a major shift within the industry. Traditionally following a hospitality format, today's senior living specialists now adapt pages from healthcare models. The pandemic prompted senior living staff to implement more on-premises care methodologies. The results are fewer in-person touch points, enhanced health tracking and preventative care. With these changes come new challenges.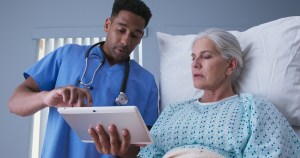 Bob Kramer is the co-founder of the National Investment Center for Seniors Housing and Care (NIC), a Yardi partner. Kramer shares his insights on the challenges faced by senior housing professionals as they shoulder more on-premises care for residents.
Learn about the benefits of the NIC Actual Rates Initiative for senior housing market data.
A transformation born from necessity
In recent history, senior housing providers focused on the resident experience. Staff left health care in the capable hands of off-site experts. COVID-19, however, required staff to renegotiate the barrier between hospitality and health care. In addition to their existing responsibilities, housing providers initiated on-premises health care tasks.
"[The pandemic is causing] what you might call the creative destruction of some of what has been the paradigm to senior housing and care," Kramer explained during a panel interview. "The senior housing and care model that we don't do health care, and that we ship out our residents for health care services, I just don't think that model will survive."
He continued, "That doesn't mean senior living providers need to abandon hospitality-driven models altogether. But it does likely mean they need to rethink how they coordinate care within their communities."
Reimagining doctor's visits and communication
"In just the past six months, older adults have learned to fear the hospital, the emergency room and the doctor's office, as these are places now associated with a deadly pandemic," Kramer said. With the help of site staff, residents have taken comfort in telehealth options.
Housing professionals forged partnerships with health care providers to offer remote care. Through this alternative, seniors skip unnecessary transport to medical specialists. They receive assessments and basic care from the comfort and familiarity of their communities.
Community staff members implement software to help manage residents' chronic conditions and any changes in wellness. Routine maintenance that was once handled off-site now takes place within residents' rooms.
Emerging from the pandemic, it's unlikely that telehealth services and community-centered care will fade from practice, suggests Kramer. Staff can rely on technology and data to make the new on-site care model more efficient and secure.
Data and interoperability at the intersection of senior housing and health care
Interoperability and data management are lingering concerns with senior living providers. The concern has only grown as more care takes place within communities instead of hospitals.
An upcoming change in policy may provide the guidance and structure that senior living providers seek. The Interoperability and Patient Access final rule from the Centers for Medicare & Medicaid Services (CMS) requires all health plans to present their data as an application programming interface. Proposed to take effect by July 1, 2021, the policy gives developers insight into general health care data. They can then use that information to address interoperability issues in new technologies.
The data can also highlight trends in resident behavior or assessments that allow staff to take proactive care measures. As with all things data, the more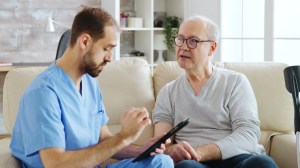 information uploaded, shared, and properly analyzed, the more accurate insights become.
"The challenge is making sure they have the means to upload their observations that are then screened by an algorithm searching for red flags and are instantly shared with those responsible for the delivery and care for that individual," Kramer said.
While site staff will enter their observations, residents can be empowered to share their health data on their own. Kramer expects strong participation. He observes that many Boomers want to be proactive about their health.
"I do think that this is the role of tech, in enabling Boomers to self-direct and self-manage their own health and their own lifestyle, and to get constant feedback," he said.
Tools of the trade: point of care services for seniors
With on-premises care here to stay, senior living providers are encouraged to explore technology that facilitates safety, simplicity and security.
Devices and software that eliminate touch points facilitate healthier environments for seniors. Shared touch surfaces are phasing out in favor of voice-activated and personalized units for residents.
Some properties are also using geofencing, technology that tracks resident movement throughout a campus. Popularized in memory care facilities, the technology can be used to monitor potential exposure and infection rates.
Family portals simplify routine tasks such as bill payments, updates to personal information and care plans. Residents and their account managers can log in at any time via any internet enabled device. Self-service portals decrease workloads on staff while empowering residents and their families.
Mobile devices allow staff to issue updates at the point of care. Staff can make assessments, plan care, track incidents and even note changes in behavior without walking back to a shared office space.
Learn how electronic health records can raise satisfaction, reduce risks, and simplify billing at senior housing communities.
Technology + accountability for resident satisfaction
As senior housing providers add elements of health care into their hospitality models, resident health becomes an even larger component of resident satisfaction.
"The health and safety of your residents and staff is what you're going to be judged on," Kramer said. "And if they're failing, in a pandemic or in a flu season, you're going to be judged and held accountable for that."
Technology bridges the gap between hospitality and health care, providing housing professionals with the tools needed to optimally operate during any changes the industry endures.
Watch this video to discover how integrated electronic health records can reduce errors, limit liability and improve resident satisfaction.