Foldable Phones
By Adina Rogoz on Jun 13, 2020 in Technology
Samsung's Galaxy Fold was first introduced in London last year during the company's Unpacked event as being one of Samsung's most innovative designs in years. Since then, the company has released a newer folding phone called Galaxy Z Flip and reviews say that it tops the previews Fold version. The $1,380 device has a plus compared to the Galaxy Fold: it can fit into your pocket when closed, which wasn't the case with last year's released. The Z Flip opens vertically and revels a 6.7-inch screen with a layer of ultra-thin glass.
Galaxy Z Flip Design
This phone design brings us back to the memory lane when the old flip phones where stylish and everybody wanted one, except this is a way more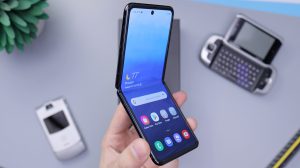 modern and technology-advanced version of the old one. Samsung says the phone can flip open to up to 200,000 times, which makes it a pretty durable device. Another thing that the company has learned from its mistakes made with Galaxy Fold is that for this device they designed a thin layer of fabric that makes sure that dust particles don't go between the gap that exist between screen and hinge, which was a problem for the original Galaxy Fold.
On the phone's exterior there is a 1.1-inch SUPER AMOLED screen that show you incoming calls, texts and alarms. It also displays the date and time, so you don't have to flip it every time you need to see what time it is. Additionally, there is a mini-view finder with which you can take selfies the Z Flip is closed. To do that, you just need to press the power button twice to summon up the viewfinder and then hit one of the volume buttons to take the picture. This is a quick way to snap a photo without having to flip the phone too many times.
Galaxy Fold 2: Rumors
In late April, company's representatives said that they will launch new Note models, as well as new foldable ones. Let's Go Digital reported that WIPO recently published a new patent from Samsung Electronics pointing the new Fold is expected to be waterproof. Galaxy Fold is Samsung's most expensive phone so far, but one option that most smart devices have nowadays, doesn't exist with this phone is waterproof technology. The hinge made it impossible to add that option to the phone. So, the question that remains now is how will the company add waterproof elements to the new design? And will the price—already high—increase?
Rumors say that the new device will cost less despite it having an upgraded 120Hz screen. The exterior's device is forecasted to include a long display that will only show notifications, so it would seem there will be no other way than to open the phone. Samsung released some renderings of the newest device which show that there is a fingerprint power key, a full array of front-facing cameras, as well a triple main-camera setup which can be a periscope zoom camera.
It is a never-seen-before thing for a smartphone that is also foldable to be waterproof as it has multiple connection holes, especially around the hinge connection. We'll see for ourselves when Samsung is expected to release its new model, later this summer.