Collaborative Curriculum
By Mike Sederholm on Aug 13, 2019 in Technology
Yardi eLearning users have the opportunity to study topics far beyond Yardi software instructions. The catalog includes hundreds of courses that deliver knowledge essential for property managers.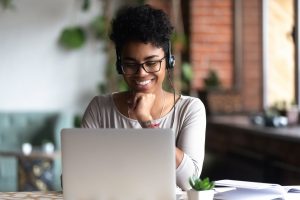 Learners receive instruction on topics such as compliance for human resources, leadership skills, residential leasing, safety, communication and other general office best practices.
Yardi eLearning is the best place to learn Yardi software. What other source would have the most comprehensive, insider knowledge on Yardi technology?
But what about the other courses that make up the Yardi eLearning catalog? Why should you learn professional development skills from a software company?
The answer lies in Yardi eLearning's unwavering focus on meeting clients' need for a one-stop shop for everything a property management employee needs to grow professionally.
Patty Evans, director of Yardi eLearning and corporate training, recently described how her team has worked to accomplish that goal, and dispelled the myth that Yardi eLearning just teaches Yardi software skills.
"It is extremely important for users to feel confident and capable when using Yardi's software, so that's always going to be a very high priority for eLearning. But, we also feel that having a well-rounded catalog also offers great value to our clients. The curriculum we create is comprehensive and completely customizable, and is often more affordable than hiring a consultant to provide classroom training that is not reusable," said Evans.
So, what is the secret to Yardi eLearning's success? Extensive collaboration with industry leaders, in-house experts and a diverse client base of property managers directly involved with course development.
"Diversity in stakeholder input is the key to making the best content in Yardi eLearning," says Evans.
Creating dynamic course content
From the very beginning of the course development process, the Yardi eLearning team seeks input from a varied group of people. The goal of the development process is for newly created courses to meet three basic standards:
Relevancy for property managers
Accuracy for property managers
Compliance with legal mandates
Industry relevancy is achieved by engaging with Yardi's extensive client base from the start. Yardi eLearning meets regularly with clients in a variety of staff roles to identify new content outlines, relevant scenarios and examples to ensure the content is delivered in a way that is relatable and practical. Participants give feedback as to whether the material fits the learning needs, closes skills gaps, and provides appropriate challenges, to ensure the content is hitting the mark.
To maximize industry accuracy, Yardi eLearning leans heavily on subject matter experts from its internal team and, again, those from its vast client base. Collectively, that group of industry experts has decades of combined experience in property management which ensure that Yardi eLearning courses teach information that is not only practical, but also reflective of current industry trends in property management.
Legal accuracy comes in collaboration with Yardi's in-house legal team, who vet courses to ensure they meet compliance requirements. "Our course catalog covers topics such as sexual harassment prevention, workplace bullying, fair housing and more. These aren't topics that someone could just sit down and write about without professional, working knowledge of the ever-changing legal landscape of the property management industry," says Evans.
A Key Component of Every Course
During our interview, Patty pointed to a quote that influences eLearning's approach to course development:
When we come together with people who are not just like ourselves, that's when we think big, think different, and achieve beyond the boundaries of what was possible before. When diversity is not just supported but celebrated, employees thrive, products improve and the community benefits.
"As a product team, we've applied this philosophy in how we approach course development and maintenance. Getting the best courses to our clients depends on the input from a lot of people who all provide different perspectives and insights. We value teamwork, innovation and creativity. And above all, collaboration is the best ingredient in our course development recipe."
Yardi eLearning clients can log on now to Client Central to see the latest version of the course catalog. Not a Yardi eLearning client? Visit Yardi.com/eLearning for more information and to schedule a demonstration. Call 800.866.1144 for more information.
Editor's note: As of April 2020, Yardi eLearning is now Yardi Aspire. Read about the rebrand here.