Building Dimensions
By Joel Nelson on Mar 9, 2018 in Technology
Leasing agents often have to be part lawyer, part CPA and part tour guide when handling such details as monitoring existing tenant lease options, notifications and expiration dates, tracking prospective tenants, crafting letters of intent and arranging showings.
Customer relationship management technology that manages these operations has com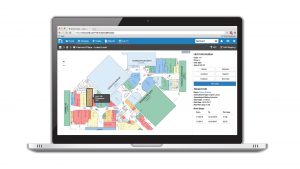 e a long way over the past few years. A key development was stacking plans and floor plans that provide a two-dimensional visual representation of a building showing space availability, tenants on each floor, expiration dates and current rental rates.  Color coding helps managers, leasing teams and others identify opportunities and expose risk.  And mobile technology has taken lease execution out of the office and into the field, further shortening the leasing cycle.
What's the next step for CRM technology?  The Balance Sheet asked Tom Dragmen, Yardi's manager of global solutions, for a deeper dive into the emerging generation of stacking plan and floor plan technology.
Q: What does "interactive stacking and floor plans" mean?
A: This refers to a rich visual representation of lease expirations and related space details. They can overlay configurable performance measures and metrics on floor plans.  They also provide a visual dimension for efficiently analyzing expirations, options, unit types and rent-per-area trends in buildings.
Q: What's the user perspective?
A: Leasing agents and others get a full graphical display of vital information including lease statistics that determine rental rate trends.  They can see stacking and floor plans based on expirations occurring in specific years, rents per area, encumbrances, options, proposals, unit types, and tenant performance measures such as sales per area, sales variances year over year and foot traffic.
Q: How can this information be used?
A: When integrated with CRM and accounting systems, the new generation of interactive stacking and floor plan technology lets users streamline proposal and leasing processes by initiating the proposal process for renewals, relocations, expansions within the stacking plan.  You can see a lease's start and end dates and rent per area on the stacking plan along with the full schedule of rent steps, options and other details on the lease record.
Q: What else can be done with this visual representation?
A: You can get such option details as expiration dates and notice history, access lease abstract and neighborhood environmental reports, and view outstanding proposals related to vacant units from within the stacking plan.  You can also analyze and interact with floor plans based on business intelligence metrics and performance indicators such as sales category, sales per area, sales year over year and other factors.
Q: What's the principal business benefit?
A: With contract documents, billing terms, accounts receivable balances and other business intelligence data available from remote devices, agents can zero in on impending vacancies, make informed decisions, and close deals quickly.
Q: And the bottom line?
A: Maximum revenue generated by more lease deals that close faster.  Less vacant space.  An easier path to renewals that increases retention rates.  Visual illustrations that bring commercial space to life and offer new ways to sell, illustrate, analyze and make decisions about a space.
Q: How is the state of the art evolving?
A: Stacking plans are becoming more versatile. New stacking plan technology lets the leasing agent take the stacking plan into the field and view it on a mobile device. The leasing agent can present a stacking plan to prospective tenants that obscures sensitive information and protects existing tenant privacy while showing available and occupied units in the building.
Learn about Yardi's solution for leasing management.