5G Technology
By Luis Estrada on Aug 5, 2020 in News, Technology
What do we know about 5G connectivity at this stage in its development? First, we know it's nowhere near the capacity it will have in the coming years. Second, we know that it will provide an incredible speed increase over 4G (potentially 100x faster downloads). Third, we can safely presume it will have a significant impact on commercial real estate.
In a recent session at the 2020 Virtual BOMA Conference, Yardi solutions consultant David Franklin explained how 5G is already beginning to transform the industry and reshape communication standards.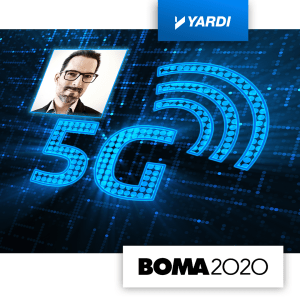 A world of new possibilities
"The change to 5G will be as significant as the change from analog to digital," Franklin said. While timing is still unpredictable, 5G will become ubiquitous. Existing cell towers may not have to be replaced and, while there will be millions of new towers that pop up, 5G connectivity will be available everywhere. This is due to the fact connection points will become easily installed anywhere from light poles to bus stops. The world of 5G connectivity will enable new apps and facilitate robotics and other AI and IoT enhancements.
While 4G brought the capacity to video conference and download and upload at new speeds, 5G is going to top that by "connecting massive amounts of devices with very low latency," Franklin explained. The progress made by 5G will empower a huge number of low-cost devices with low energy consumption related to IoT. The Internet of Things is already comprised of an extensive list of interconnected devices, but with 5G becoming more prevalent, this will enable more data collection, deeper data analysis, faster communication and, of course, new devices and tasks.
Real estate operation already relies on IoT-related components such as thermostats, security cameras, lighting controls and energy conservation systems. As 5G provides advancements to all these and other building elements, operators will be able to better predict budget, reduce costs more effectively and mitigate risk components.
Increased availability of 5G will also bring about a revolution of augmented reality and virtual reality (AR and VR). Augmented reality is a series of images superimposed over reality, like a heads-up car display. For commercial purposes, 5G could provide uses of AR in virtual conference rooms or shared workspaces. Virtual Reality is a complete replacement of reality. Thanks to 5G, we could one day see completely virtual events replace large in-person conferences. New connectivity will be so fast and so precise that interactive conferences could be possible in 4K or even 8K resolution. For perspective, the greatest televisions on the market are just now incorporating 8K displays. We could see conference rooms equipped with 3D projectors, or laptops with fully virtual displays.
COVID-19 has driven companies to think about benefits previously not on anyone's mind such as presence sensors to determine who is in the building and when. It's possible 5G could facilitate new sensors, such as airborne pathogen detectors or concepts even beyond our realm of possibility right now.
Preparing for 5G
Keep in mind there is no mass adoption of 5G just yet. "Some tech can be a steppingstone," Franklin said. While 4G has gotten us quite far, lack of coverage in some buildings or under a tunnel can be frustrating. We've enhanced connectivity as much as we can: distributed antenna systems (DAS) let you take existing cell network coverage and rebroadcast it into a building. Small and micro cells create mini towers inside a building similar to a Wi-Fi access point. Citizens Broadband Radio Service (CBRS) deploys a private LTE network to essentially create a little tower inside a building.
With 5G, those enhancements may be rendered moot. How do you prepare for 5G connectivity?
Understand what is already in your building. Do you have a fiber connection? "Fiber is the backhaul for 5G," Franklin said.
Perform an IT assessment. Connecting so many devices could leave you vulnerable to attack.
Prepare IT systems for a flood of data. If you increase your storage and security measures, you'll be more prepared for 5G.
Focus on the tenant experience. Keep in mind the applications and benefits 5G will provide to tenants and their guests.
Providing 5G connectivity will increase the valuation of a building. The ability to use your connected devices equally well inside and outside the building is a significant driver for value and customer satisfaction. "Everybody has lighting, heat, HVAC and those services," Franklin said, "but having 5G will be a differentiator."