Reimagining Affordable Housing Training
By Mike Sederholm on Jun 19, 2023 in People
Our series highlighting affordable housing visionaries continues with a look at the work of Ebonye Edwards, director of learning and development for ALCO Management.
ALCO is based in Memphis, Tenn. The company's 200+ employees serve communities in eight states in the Southern United States. ALCO's portfolio includes 59 properties with 5,497 units.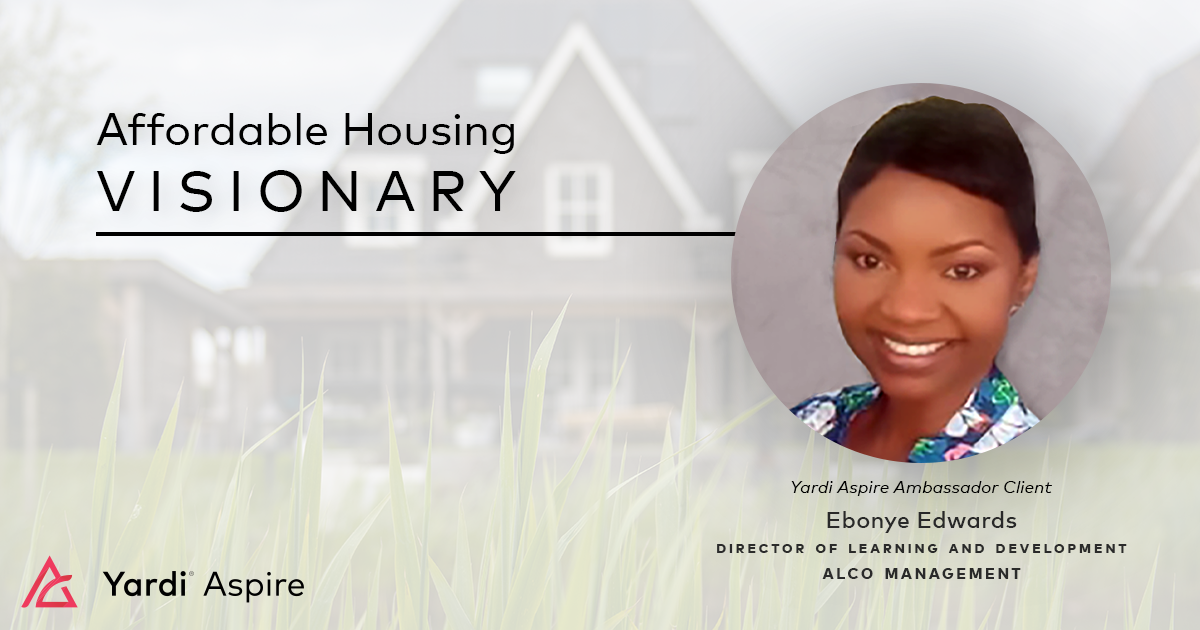 How did Yardi choose Ebonye to feature in our Affordable Housing Visionary series? It's her ability to recognize the usefulness of training and to implement technology that keeps ALCO in compliance with the ever changing standards of the affordable housing industry. She keeps ALCO's in-office and remote workers trained using custom courses, curated learning plans, automated reminders and reporting tools.
Q: Ebonye, tell us about your role at ALCO.
EE: As Director of Learning and Development, my job is to make sure our team has the resources necessary to not only perform their job, but also to create career opportunities in the complex affordable housing industry.
Q: What is your biggest accomplishment at ALCO to date?
EE: When I was hired, our learning program used live instructional sessions held in virtual classrooms. I discovered that method to be a bit inefficient because classes would often be faced with unknown delays and absences that may have limited the potential benefits of training.
Q: How did you mitigate those limitations?
EE: At the time, ALCO was licensing Yardi Aspire, but with limited actual use. Our training courses at the time covered standard topics such as fair housing, sexual harassment and maintaining a drug-free workplace. All other topics, including affordable housing compliance subjects, were taught by our in-house instructors. They'd set a schedule with hopes of reaching everyone who needed training. Despite their best efforts, it was a challenge for everyone to attend.
As I was considering the future of training at ALCO, I took a closer look at Aspire. I found that Aspire had affordable housing property management and compliance training content that could supplement, if not replace, much of the live training sessions we had difficulty coordinating across our regional work spaces. We considered the different roles at ALCO, such as property managers and maintenance teams and created learning plans based on those roles.
Q: How does your team make sure your learning plans cover everything you need?
A: Our Senior Instructional Designer is great at creating custom courses in Aspire. She uses the templates and design tools to roll out coursework to our team, and can normally complete a module in a matter of days. One of the biggest differentiators I have found with Aspire is that it's not just a medium to get training content onto the screens of learners. Aspire is different because it also has built-in, proprietary content. That content often meets our needs, but when it doesn't, our design team can easily tweak the classes or build new learning modules from scratch.
Q: How does Aspire help ALCO with affordable housing compliance mandates?
EE: Yardi helps us keep up with evolving affordable housing industry regulations. When HUD changes go into effect, Yardi Aspire immediately begins work to make sure our training content is compliant. I feel confident that our staff is learning up-to-date processes and procedures and not spending time on anything out of compliance.
Q: How does automated content delivery make things easier for ALCO?
EE: Centralizing training on a learning management solution, such as Aspire, replaces a lot of administrative work. Instead of keeping track of training schedules for each employee in a spreadsheet or database, we automate things on Aspire. It alerts our team members when they are required to recertify on fair housing, employment standards and on changing laws.
Q: Was Aspire helpful for ALCO during the pandemic?
EE: Yes. At the time, I felt like ALCO was ahead of the curve compared with what other affordable housing organizations may have been experiencing. For example, Aspire is great for onboarding new employees even when a lot of in-person meetings aren't feasible. The learning plans we created for various roles at ALCO are accessible over the internet just with a common web browser.
We've continued to have remote team members post-pandemic, and Aspire is one of the reasons why we've been able to do so. It's a great tool for delivering consistent training, so team members who are in the office and those who are remote share the same learning experience.
Q: How has your investment in training technology paid off?
EE: A major benefit of having a learning management solution is that there are clean, consistent data points to collect and analyze. So, one of the ways we measure the effectiveness of our training program is by running periodic reports on that data for managers on a set schedule. We see how many courses are completed over a period of time, the number of hours spent learning, how many events we held, etc. We average nearly 1,000 hours of learning impact hours in a calendar year across the organization.
Q: Do affordable housing providers share training strategies and successes amongst each other?
EE: Yes. ALCO actively participates in a monthly roundtable discussion hosted and moderated by Yardi. It's an online video call, so fellow Aspire users can join in from across the country to talk about a given subject each month. The meetings are extremely well organized and focused, and are another example of how well the Aspire team does to support the userbase. They are a very hands-on team. When I create a support ticket, I know that I'm going to get a quick response with a resolution or an invitation to meet to find the solution quickly.