Reece Crossings
By Keith Loria on Jul 18, 2014 in People
Yardi client Corvias Military Living, an affiliate of the Corvias Group, has ope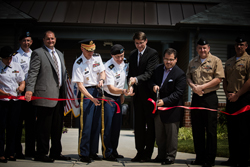 ned Reece Crossings, the Army's first-ever on-post apartments for junior unaccompanied service members in Fort Meade, Md.
Reece Crossings consists of 432 apartments and will house 1,000 junior unaccompanied service members, allowing them to live on the installation, closer to their work and support systems, for the first time.
"It's the first of it's kind and our vision of what barracks privatization could be and should be for the single solider and service member," Mike Steiner, Corvias Military Living's managing director, tells MHN. "The current design for on-post barracks is something called one-plus-one, which is like a college dorm room: two individual rooms with a common bathroom and maybe a microwave. Reece Crossings is well beyond that."
Reece Crossings 1,200-square-foot apartments feature large kitchens with a breakfast bar and full-size appliances, spacious living rooms, a laundry room with washer and dryer as well as free cable, high-speed Internet and utilities. They are all private master suites, which include individual bathrooms, walk-in closets, personal climate controls and private climate-controlled secure storage for military gear. Apartments come fully furnished with a sofa, media cabinet, barstools and coffee table, as well as a queen-size bed, desk and night stand in each bedroom.
Amenities include weight lifting and fitness rooms, a state-of-the-art clubroom with multiple flat-screen TVs, pool tables, a sports ticker and video gaming, a cyber café with charging stations and Internet access, basketball and sand volleyball courts. The development also includes gathering spaces, including a 6,233-square-foot community clubhouse, resort-style lap pool and outdoor grilling and picnic pavilions.
"It's nothing like they had before so the appeal is epic," Steiner says. "We're trying to help the soldiers get out of their rooms and eliminate the solitude. We designed this so they can share experiences in common areas and invite friends over in what we hope will be the benchmark in privatization for the single soldier."
The property was designed to achieve LEED Silver and includes advanced storm water management techniques such as bio filtration facilities and rain gardens. Use of low-flow toilets, faucets and showers and Energy Star rated appliances are also installed to help reduce energy consumption. Additionally, the project was constructed with recycled, low-maintenance, regional materials to reduce transportation cost and carbon emissions from delivery vehicles.
With this property, Corvias now actively manages 13 U.S. government partnerships and additional private partnerships. Since beginning its partnership with the Army at Fort Meade, Corvias has executed $245 million worth of contracts with local businesses.
This article originally appeared on Multi-Housing News.